Amazon Web Services (AWS): Introduction
Amazon Web Services does not need a formal introduction because of its vast prominence. It is the largest cloud-based service on the market. It offers developers with over 170 Cloud services to access them on request from anywhere.
Before moving on, let us have a look at what cloud computing means?
Cloud Computing
Online services like servers, databases, and software for users get provided via Cloud computing. It is a networked service that doesn't require you to store your data on local devices. You can get information from a web server and it is a highly efficient method used for storing and accessing data worldwide. From any remote location.
Introduction of Amazon Web Services (AWS)
Amazon Web Services offers high durability for low-cost data storage. You get to choose backup scenarios from several options; including archiving, disaster recovery, and storing blocks, files, and objects.
We can say that AWS is an online platform that delivers scalable and cost-effective cloud computing solutions.
Some of the critical applications of AWS include providing a wide range of on-demand activities, including computer power, database storage, content distribution, etc., it's a widely accessed cloud computing platform.
Applications and Services of Amazon Web Services (AWS)
Amazon Web Services provide multiple services for cloud applications. Keep in mind some of the essential widely-used services of Amazon Web Services (AWS):
Mobile, Web, and Social Applications
Storage and backup Services
Computing Services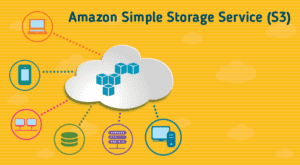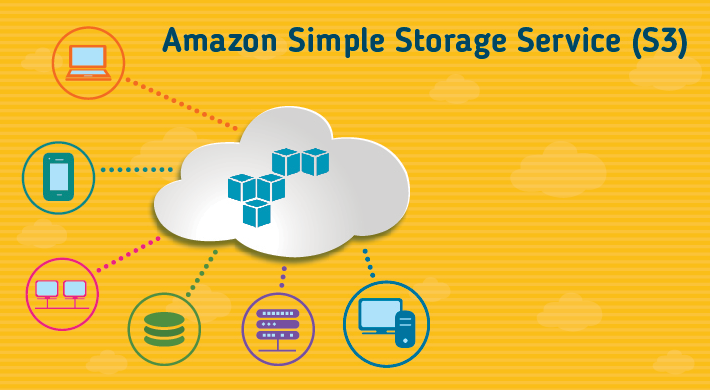 Let us explore amazon storage services and look at what these are and how they are being used.
Storage Services
The Storage domain includes services related to data storage. It comprises some of the following services:
S3 (Simple Storage Service)
Elastic Block Store
Amazon Glacier
S3 (Simple Storage Service)
Amazon S3 is an object storage service that saves all types and sizes of data. It can store any form of business data; including online apps, mobile applications, backup, archives, and analytics. It also allows easy administration of access control for all of your business needs. It is virtually 100% durable. It can become your Dropbox to store many file formats. S3 may also upload files, create folders, or remove them through a simple web-based file explorer. It is an open cloud storage service used to back up internet data.
Amazon S3 delivers storage via a web interface and for web-scale developers who are conversant with the internet.
Elastic File System (EFS)
EFS is a managed network file system with ease of setup from either the amazon interface or CLI. EFS helps you do so if you have several EC2(Amazon Elastic Compute Cloud) instances that need to access the same file system. They construct EFS on SSDs through the NFS4.x protocol which gives a significantly rapid output.
EFS scales are up or down dependent on the file size of the data stored and are also available from several areas of availability. Note that the distributed nature of the file system may tempt you.
It provides a massive amount of storage for permanent data, and primarily used in the cases of Amazon EC2.
For primary storage, file storage, database storage, and block-level storage.
Amazon S3 Glacier
The glacier is significant for archiving and storing long-term data. This highlights the fact that this storage system has a poor recovery rate, which is exceedingly low.
It has suitable security capabilities for encrypting your data. You may use Amazons' S3 glacier to perform direct queries and analyses whenever you must access the data. Amazon S3 Glacier is the most extensively used storage service by businesses in terms of durability. Glacier looks to drive a far more economical and lasting alternative to replace the old on-site backup service.
You can use it for low-cost archival data.
Amazon S3 Glacier offers a querying capability that allows you to do high-performance analytics directly on your archive data.
Amazon Web Services are being widely used by many tech giants in the market. Each of them uses Amazon Web Services according to their need for services. Below are just some companies using AWS.
Netflix
Coinbase
Airbnb
Adobe
Johnson and Johnson