Contrasting the Public cloud vs private cloud is important to understand the exact difference between both cloud services and how they can benefit you and your business. They are both different options offered to your business by the cloud service provider. 
As you already know, cloud computing is rapidly becoming popular because of its on-demand availability. Sharing resources like computing power and storage of data is now very easy. You can use all those resources without worrying about managing them.
The facilitation of managing your data like this comes in public and private. Now let's dig further and discuss both:
Public Cloud
In this model, cloud computing services get distributed using the internet. This is the most used service in cloud computing because it offers a range of options to provide computer resources and solutions to meet the requirements of small-scale businesses to large-scale businesses.
Public cloud service gets delivered to clients by a cloud service provider and gets managed by the service providers. It includes three service models: Infrastructure as a Service (IaaS), Platform as a Service (PaaS), and Software as a Service (SaaS).
Now, let's understand the need for these services
Need for Public Cloud Services
We need a public cloud for sharing resources and applications through the internet. A common example is communication services for a set of users. Some other examples may include:
Miscellaneous services and online apps for daily use.
Requirements of additional resources because of variable needs.
Development of software and create test environments.
Advantages of Public Cloud Services
The many advantages of using public cloud services, also the reason many people prefer them to private cloud services include:
Technically Agile: High scalability Public Cloud services are highly scalable, offer great flexibility, and meet required variable workload needs.
No Maintenance: Maintenance and infrastructure does not need tremendous investment but its all managed by the service provider.
Time and Efforts Savings: All the efforts of managing cloud service are taken care of by the provider, so, organizations can focus more on their primary service domain.
Economical: Affordable pricing options based on SLA offerings.
Cost Effectiveness: Organisations opting for public cloud services can follow lean growth strategies and invest more in innovative solutions.
Limitations of Using Public Cloud Services
There are also some disadvantages of using the public cloud services:
Cost Effectiveness: Public cloud TCO can vary significantly in cost if usage of the resources be comes required on a big scale.
Security Concerns: Public cloud offers shared resources to multiple organizations, and because of this, there might be some data privacy concerns.
Least control of Resources: because you have lesser control over the resources being used by the organization, you may get inconvenienced in decision making.
What is the Private Cloud?
A cloud solution that is limited to a single organization is a private cloud. It's dedicated to serving only one organization. In this type of cloud computing, you do not need to share cloud resources with any other organization.
In a private cloud, the resources of a data center can get operated by a third party, or it could also be on-premises itself. In short, your resources get distributed privately using a secure line and are isolated to avoid sharing with other clients.
Public Cloud VS Private Cloud
Private Cloud Services
Cloud service are limited to one organization
Resources are Not shared between multiple clients
The application and data of the client remain isolated
Public cloud services are like renting an entire house
It's costlier than the public cloud services.
Less usage of resources comparatively.
Most of the time, service providers take care of the maintenance of a cloud service themselves. But, in a special case, requirements then organizations may also have to look into the service themselves.
Public Cloud Services
Cloud services are distributed to multiple organizations.
Resources get shared between many clients.
Even when data and applications get hidden from each other, they still get saved on the same storage.
Public cloud services are like renting a flat or apartment in a house.
It's less costly because of shared resources.
Comparatively more efficient usage of resources.
The service provider always takes care of maintenance.
Advantages of Using a Private Cloud
Security: Because these services remain dedicated to you, they are more secure when compared to public cloud services.
Regulation Compliant: If an organization uses a public cloud, internal teams don't have to manage servers—as they do for on-premises data centers or internal private clouds.
Customizable: Organisations can get their private cloud services customized as per their requirements
High Scalability: Private cloud services are highly scalable.
Efficient: Private cloud is more efficient than public cloud services because of fewer loads on it.
Disadvantages of Using a Private Cloud
Very Expensive: The TCO of private cloud services is extremely high and not easily affordable for small-scale businesses.
Minimal Accessibility: On mobile devices, it is hard to access and manage private cloud services.
Limiting Infrastructure: Infrastructure in private cloud services is limited as compared to public cloud services.
The image below comprehensively displays the classification of public cloud and private cloud.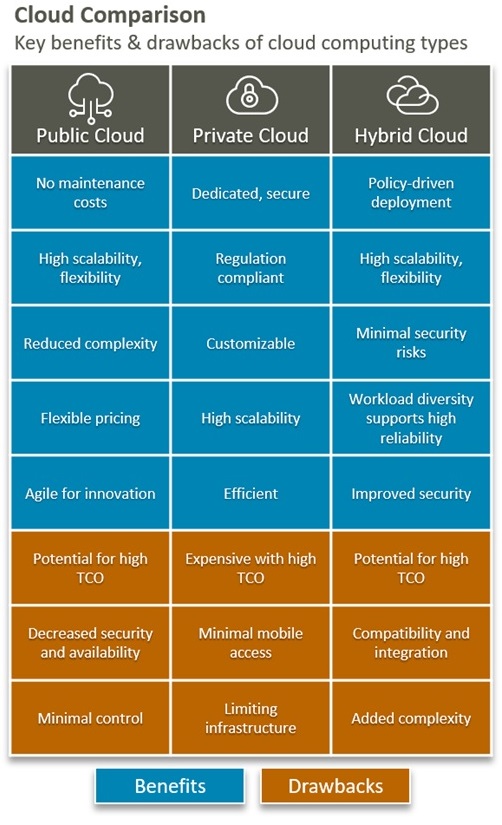 Conclusion
After understanding all the factors discussed above, you'll find that both the public and private cloud services have their own benefits and drawbacks. Things vary along with the requirement of any organization. So we should consider selection of these services after comprehensively analyzing various factors, including the budget, work-load, requirements, and features being offered by the service providers to get a cost-effective solution.
This video can also help you understand the nature of cloud computing variants better.