Marketing strategies exist in many kinds and sizes, but they all have one thing in common: the desire to attract the attention of potential customers and give them something new. In this case, technology is essential since it aids in content creation and facilitates the distribution of that material. VR is the ideal medium for this endeavour.
Although how is VR used in marketing has been a hot topic, it has been mostly linked with gaming and entertainment. For many years, it has been used in many businesses.
Companies are predicted to account for two-thirds of VR users by 2023, and marketing will likely be a popular emphasis. There are several methods to include virtual reality (VR) into your marketing plan.
What Really is Virtual Reality Branding?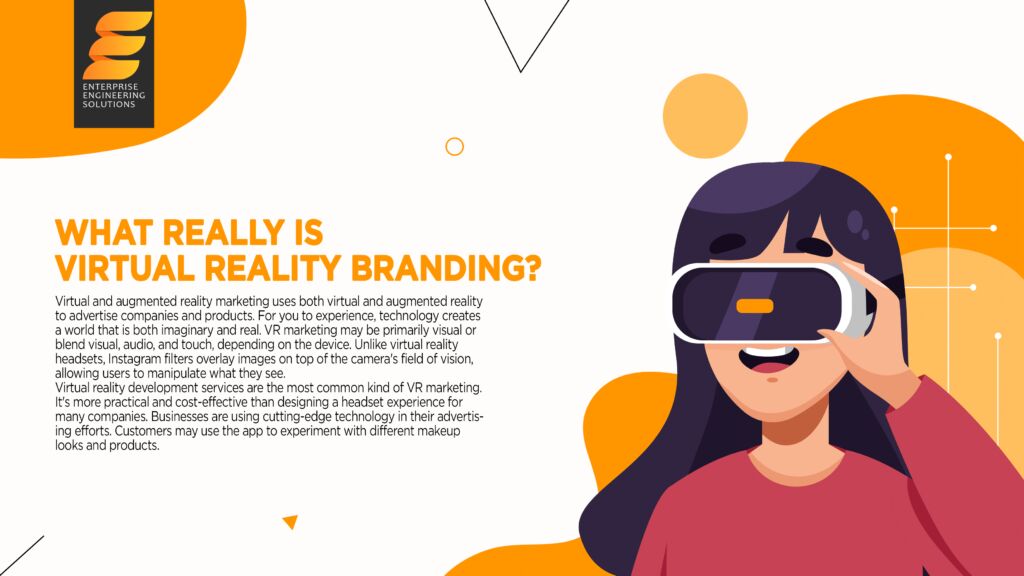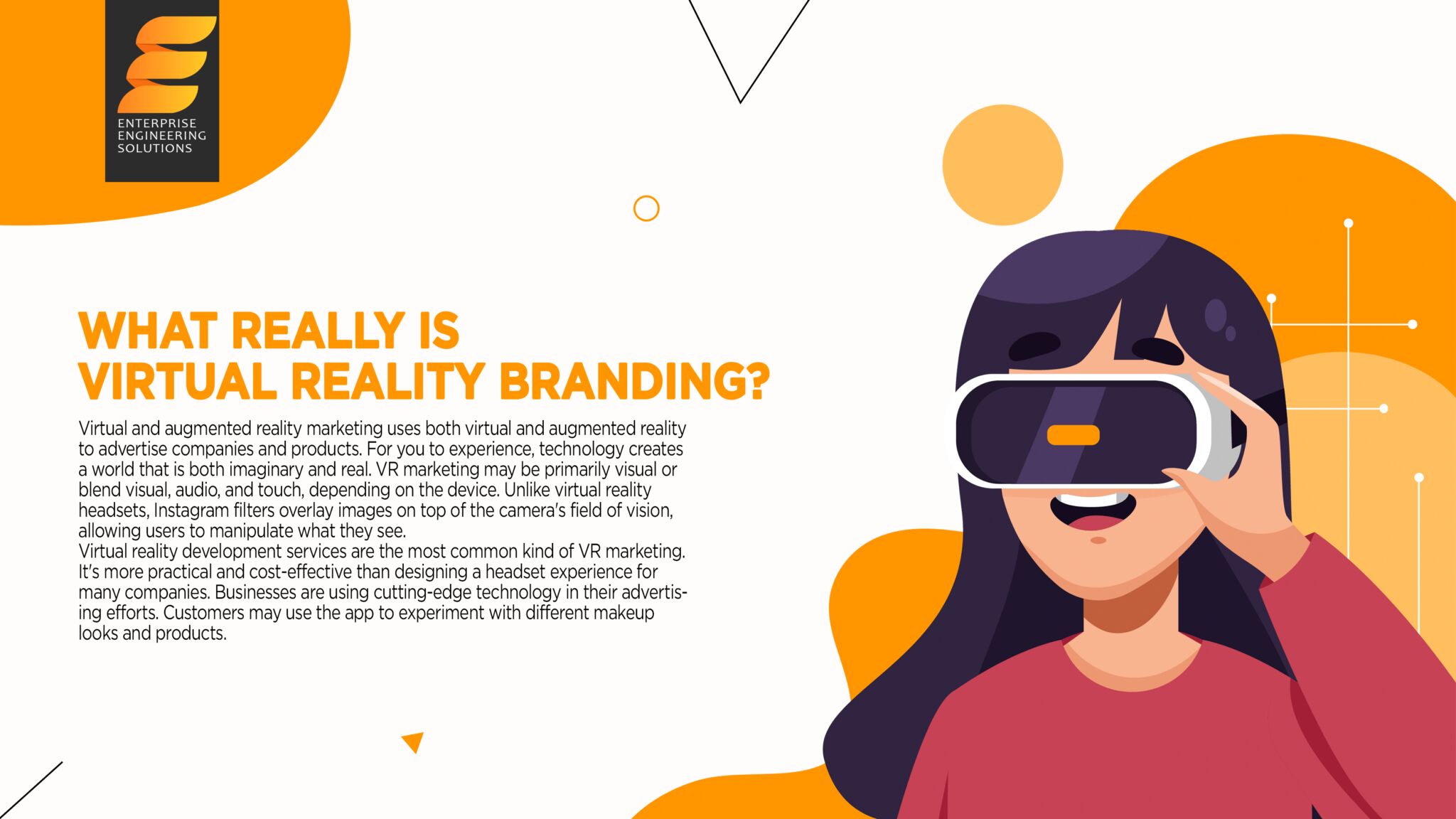 Virtual and augmented reality marketing uses both virtual and augmented reality to advertise companies and products. For you to experience, technology creates a world that is both imaginary and real. VR marketing may be primarily visual or blend visual, audio, and touch, depending on the device. Unlike virtual reality headsets, Instagram filters overlay images on top of the camera's field of vision, allowing users to manipulate what they see.
Virtual reality development services are the most common kind of VR marketing. It's more practical and cost-effective than designing a headset experience for many companies. Businesses are using cutting-edge technology in their advertising efforts. Customers may use the app to experiment with different makeup looks and products.
Real-World Examples of Virtual Reality in Marketing
To get people to purchase from you, you need to make an impression using this powerful instrument. Virtual reality allows clients to experience the benefits of a product or service in a more personal and relatable way.
Examples of creative VR marketing tactics are provided below, showing how some professional marketing experts have utilized VR to improve and adapt their marketing efforts.
There is a wide range of unique methods in which these companies have used virtual reality's marketing potential.
Keeping the New York Times As A Customer
The New York Times wanted to show its most devoted customers that they mattered, so it offered them the opportunity to see a virtual reality film on their VR headsets. The film "Seeking Pluto's Frigid Heart" is for individuals who want to understand more about Pluto. Afterwards, a video on the hardships faced by working children throughout the world called, The Displaced, was presented.
As a result, the film won the Lions Entertainment Film Festival's Grand Prix. To be eligible for future prizes, customers were encouraged to stick with the brand for a more extended period.
Developing the Emotional Bond with Toms
Toms Shoes donated another pair for each pair of shoes purchased at a brick-and-mortar store. Customers may give a pair of shoes to a less fortunate area of the world through a virtual trip. Because of the whole emotional experience, the customers were more pleased. They felt good about themselves since they were helping someone in need while also doing something good.
As a result, more individuals wanted to buy the company's shoes since they knew they were doing good and receiving something in exchange for purchasing those shoes.
IKEA – you may Try Before you Buy
Virtual and augmented reality services and marketers use this technology, and IKEA has been a pioneer in the industry by helping customers make and keep to their choices. The VR Kitchen, the company's first product, allows users to build a virtual kitchen and view it from various angles for better interaction.
This remodelling option gives customers the confidence to make all the adjustments they want. This way, customers could make more informed decisions because they could pay for the service more quickly. For their freshly refurbished kitchens, they even started exploring more things to purchase.
Revenue from Carnival Cruises and Cruise Ships Increase
Carnival Cruise had used VR during marketing trips to the Caribbean when it came to increasing its bottom line. Promotional materials such as this helped increase sign-ups for the trip and provide visitors with some insight into the culture of their destination. When prospective customers saw instances of how much fun they might have on the cruise, they were convinced to take it. The virtual reality cruise was a huge success for the company.
Expanded Interaction on HBO
The writers of Game of Thrones wanted to create an exciting experience for their ardent fans that would take them to some of the most iconic locales from the show. Visitors to Castle Black, north of Westeros, were escorted to the top of the Wall using an elevator. In the entertainment sector, it's a perfect illustration of the potential for virtual reality to be completely immersive.
Using the ice-cold air to create authenticity, the virtual elevator mimicked the action of an antique elevator. Fans of the show were immediately aware of a new degree of intensity.
Developing Nicely in Merrell's
An innovative hiking shoe manufacturer used virtual reality to illustrate the potential of their latest and greatest product to potential buyers. Participants in the 4D trip had to put the hiking shoe to the test on a range of terrains as part of the tour. A range of real-world issues and situations were also incorporated into the training.
As a niche market, Merrell's experts were apprehensive about implementing elements that may make its customers feel more attached to the brand. People definitely felt more connected to a brand as they were experiencing a product in a real-world setting.
Gathering Customer Information at Lowe's
Lowe's hopes to entice customers to buy new products by allowing them to experience them in virtual reality firsthand. Consequently, customers may see a rendering of their house when the work is finished. Lowe's determined its most popular products by using customer input.
Whichever new marketing strategy they came up with, the data they gathered was priceless.
Captivating the Public's Eye with Oreo
Oreo's virtual tour lured customers despite the severe competition and crowded market, even if the product had little chance of sticking out. Customers may buy and eat in a land whole with Oreo's newest products through an Oreo gateway.
A virtual reality development services campaign was more effective than a traditional ad campaign in attracting new customers. It's engaging and intriguing, and it successfully captures the attention of those who see it. This led to a more prominent virtual reality (VR) usage in the food business.
Conclusion
You won't be sorry if you decide to use virtual reality to improve your marketing plan. To be successful, you must know how VR is used in marketing and its methods? This may be a bit of a challenge.
EES has a team of experts that can help you get the most out of virtual reality applications in your marketing strategy. Choosing the proper course of action is as simple as getting in touch with us now.