AI may be used to reduce the workload of web application developers. It may help you enhance your website's design, increase its search capabilities, better organize and manage your inventory, improve customer interactions, and better target consumers through digital marketing initiatives in the future.
AI-based design methodologies are being used by an increasing number of web developers and designers, making it a crucial part of today's online design. Artificial intelligence can now convert handwritten user interface design into self-updating HTML markup code (AI). The AI may take control of your site's visual components, including fonts, animations, and other graphical information.
Web development, for example, relies heavily on it. Artificial intelligence may improve various tools, including a chatbot, website, marketing strategy, and more (AI).
Improvements in Web Design Made Possible by AI
About artificial intelligence and its applications, the platform offers several advantages. Several AI development companies utilize cutting-edge technology that includes a variety of ways to tackle challenges. Testing for both security and compatibility is included in these solutions.
When talking about how Artificial intelligence works with web design, a lot of web development jargon is used by artificial intelligence developers. Most companies cannot afford to start from scratch with an artificial intelligence-powered online application. As a result, digital giants like Facebook and Google have created AI toolkits that make it possible to embed pre-built plugins (for natural learning and machine learning) in online applications. Small firms may now easily integrate artificial intelligence into their internet apps, thanks to this.
Developers may now leverage artificial intelligence (AI) without writing code in an AI language. APIs and other technologies are familiar to them instead of writing their views out in full.
How can AI help in the field of Web Design and Development?
Website designers often do their best to make a product more user-friendly on a whiteboard. Web development often captures and manually converts a design into an HTML framework. Due to the extensive effort required, the design process is often pushed back (and errors may appear). Alternatively, one may take a photo of the board's website content, submit it to an AI process, and then develop a prototype web app using this strategy.
Sketch2Code, a new web-based application, has just been launched. Artificial intelligence can transform a handwritten UI design into HTML markup code. In Sketch2Code artificial intelligence works with web design. In today's digital age, every business, including web design, is being affected by the rise of artificial intelligence (AI). Artificial intelligence (AI) allows small businesses with limited human resources to interact rapidly and provide meaningful information because artificial intelligence works with web design. Artificial intelligence may benefit both the user and the developer.
EES improves capacity, energy, and cost management with Artificial Intelligence consulting services. We are bringing the industrial revolution by AI-driven market insights and process automation for completing day-to-day operations effortlessly. Every component of virtual assistance is designed to fulfill your professional goals.
In Web Development, What are the Advantages of Using AI?
Several factors may be considered when assessing the impact of artificial intelligence on web development. The following are just a few of the many ways that artificial intelligence (AI) has proven to be a blessing for web developers:
Intends the search engine's performance
User-centered interactions and experiences have been provided.
As a consequence, successful digital marketing campaigns have been made feasible.
Because of its adaptability, the system can learn from its mistakes and get better as time goes on.
It is possible for internet retailers to provide a more personalized purchasing experience.
The most critical consideration in website design is how visitors interact with it. If your website is tough to use, visitors will leave. Users are the people who go to a website (and will share their experiences). Your products must be displayed to ensure that buyers immediately recognize and purchase them. Customer-focused web applications are increasingly relying on artificial intelligence.
Customization of Content
There is nothing more important than the words you use (whether blogs, videos, or articles). You may utilize artificial intelligence to personalize your website to a particular set of people. Artificial Intelligence (AI) may also assist users in finding new content based on their prior watching patterns. Users searching for new content may feel secure in their search results since they know they will find something interesting. AI in web design is having its moment and we're here to witness it.
AI As a Web Designer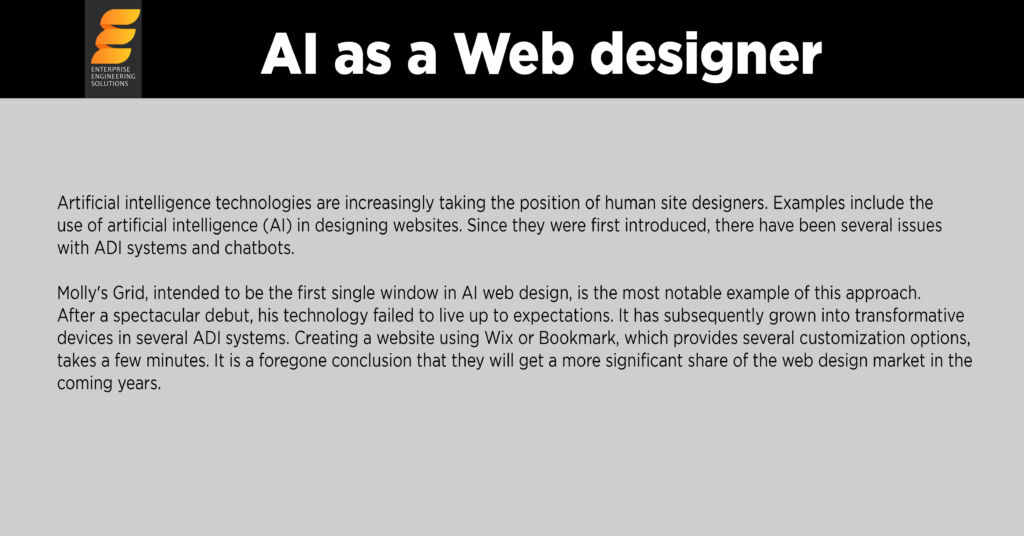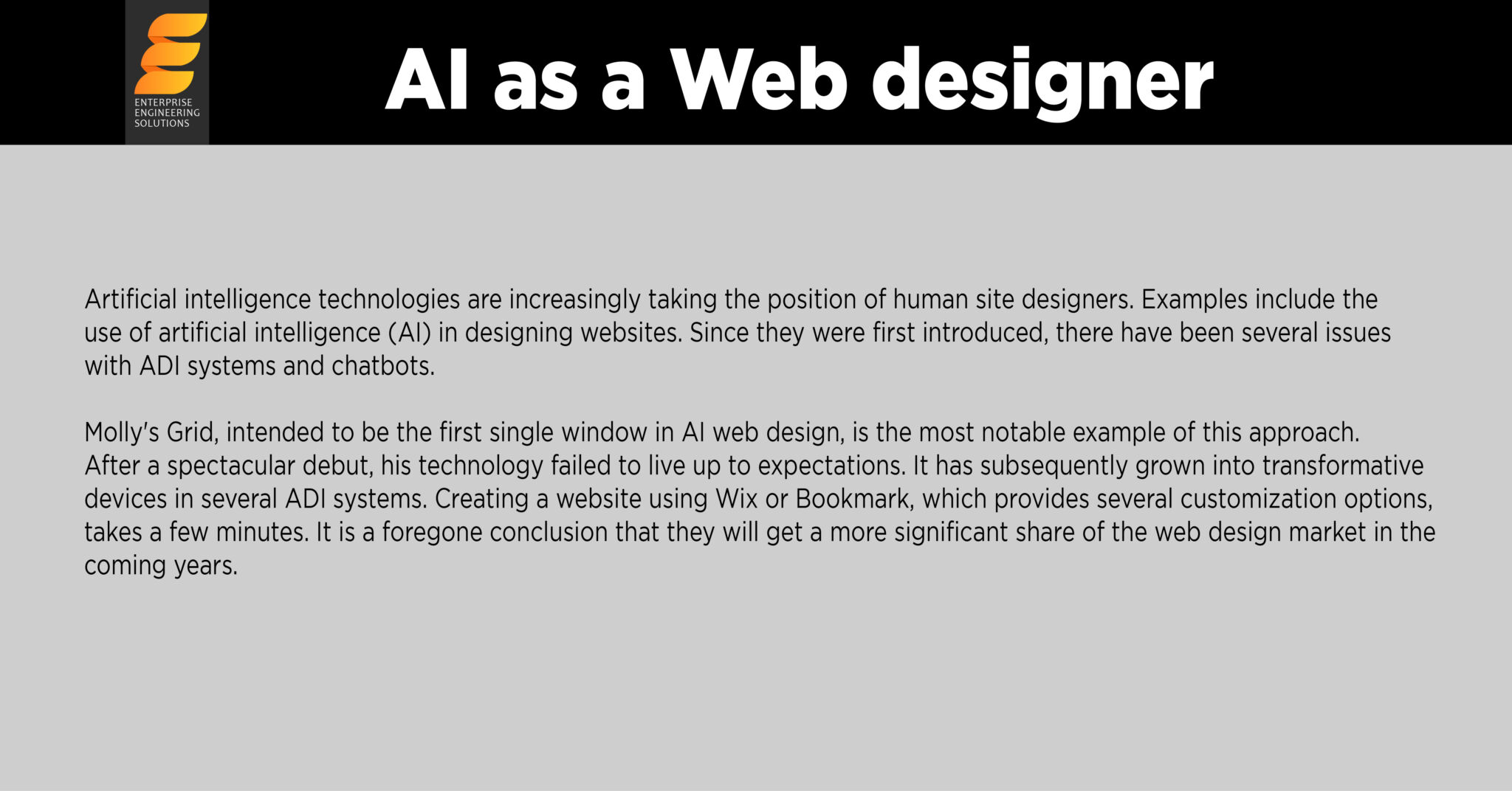 Artificial intelligence technologies are increasingly taking the position of human site designers. Examples include the use of artificial intelligence (AI) in designing websites. Since they were first introduced, there have been several issues with ADI systems and chatbots.
Molly's Grid, intended to be the first single window in AI web design, is the most notable example of this approach. After a spectacular debut, his technology failed to live up to expectations. It has subsequently grown into transformative devices in several ADI systems. Creating a website using Wix or Bookmark, which provides several customization options, takes a few minutes. It is a foregone conclusion that they will get a more significant share of the web design market in the coming years.
Final Verdict
Undoubtedly, artificial intelligence (AI) is reshaping the way websites are developed today. Many software development companies integrate AI skills to build intelligent web applications to boost the website's scalability, interaction, viability, experience, and overall feel. These companies may also assist in developing a web app driven by artificial intelligence (AI).