The cloud is the natural environment for artificial intelligence. The AI cloud, a concept that combines artificial intelligence (AI) with cloud computing, is just now being used by businesses. There are two reasons for this: Cloud computing is no longer only a cost-effective solution for data storage and processing but a critical component in the adoption of AI.
Using AI to aid in the automation of routine IT infrastructure improves efficiency. The combination of cloud computing with artificial intelligence (AI) provides a massive network capable of storing enormous data while also learning and improving over time now; let us explain how AI can improve cloud computing.
How AI can Improve Cloud Computing?
The AI cloud's ability to address problems is the most compelling advantage. In this way, artificial intelligence (AI) becomes more accessible to a broader range of people. Because AI-enabled transformation decreases adoption costs and makes it simpler to collaborate and generate new ideas, enterprises benefit from AI-enabled transformation.
Using AI to give strategic inputs for decision-making is made possible by the cloud's agility, adaptability, and scale. The cloud substantially enhances AI's reach and impact, first with the user organization and then moving to the larger market. AI and the cloud are mutually reinforcing, enabling AI to blossom on the cloud to its full potential.
AI Cloud Solutions
Companies may become more efficient, strategic, and insight-driven using cloud computing enabled by artificial intelligence. In order to boost productivity, artificial intelligence (AI) can do complex and repetitive tasks and analyze data without human intervention.
An AI system may analyze data sets of any size for patterns and trends. Because it contrasts old and new data, data-driven insight is valuable to IT workers. As a result, companies can answer customers' queries and concerns more swiftly and effectively, thanks to AI technology. Artificial Intelligence (AI) may provide insights and suggestions that lead to improved results may be provided through Artificial Intelligence (AI). With Amazon Personalize, you can provide your customers with in-app recommendations that are updated in real-time. EES cloud computing consulting services can help you modernize your infrastructure.
Benefits of using AI Cloud Solutions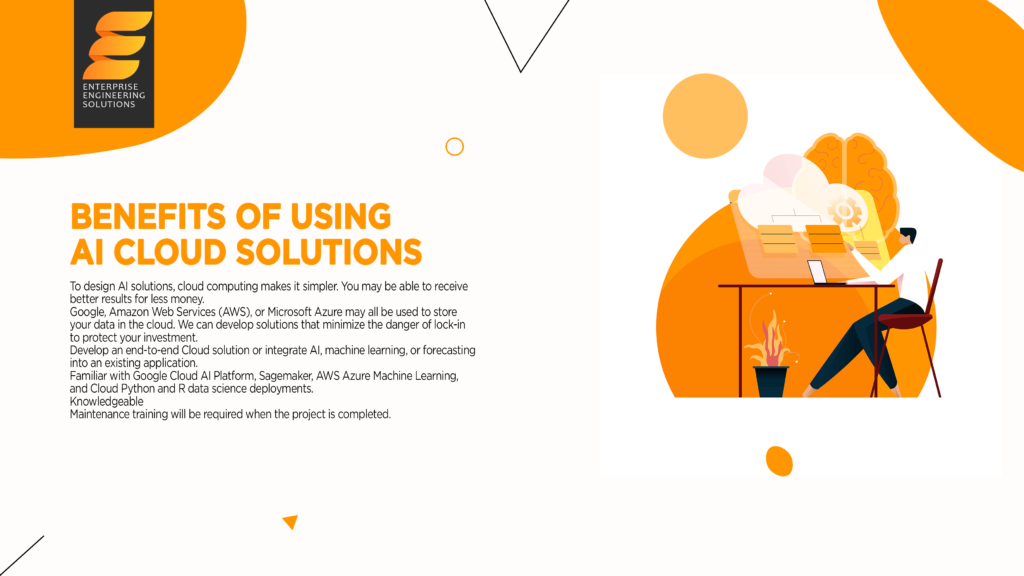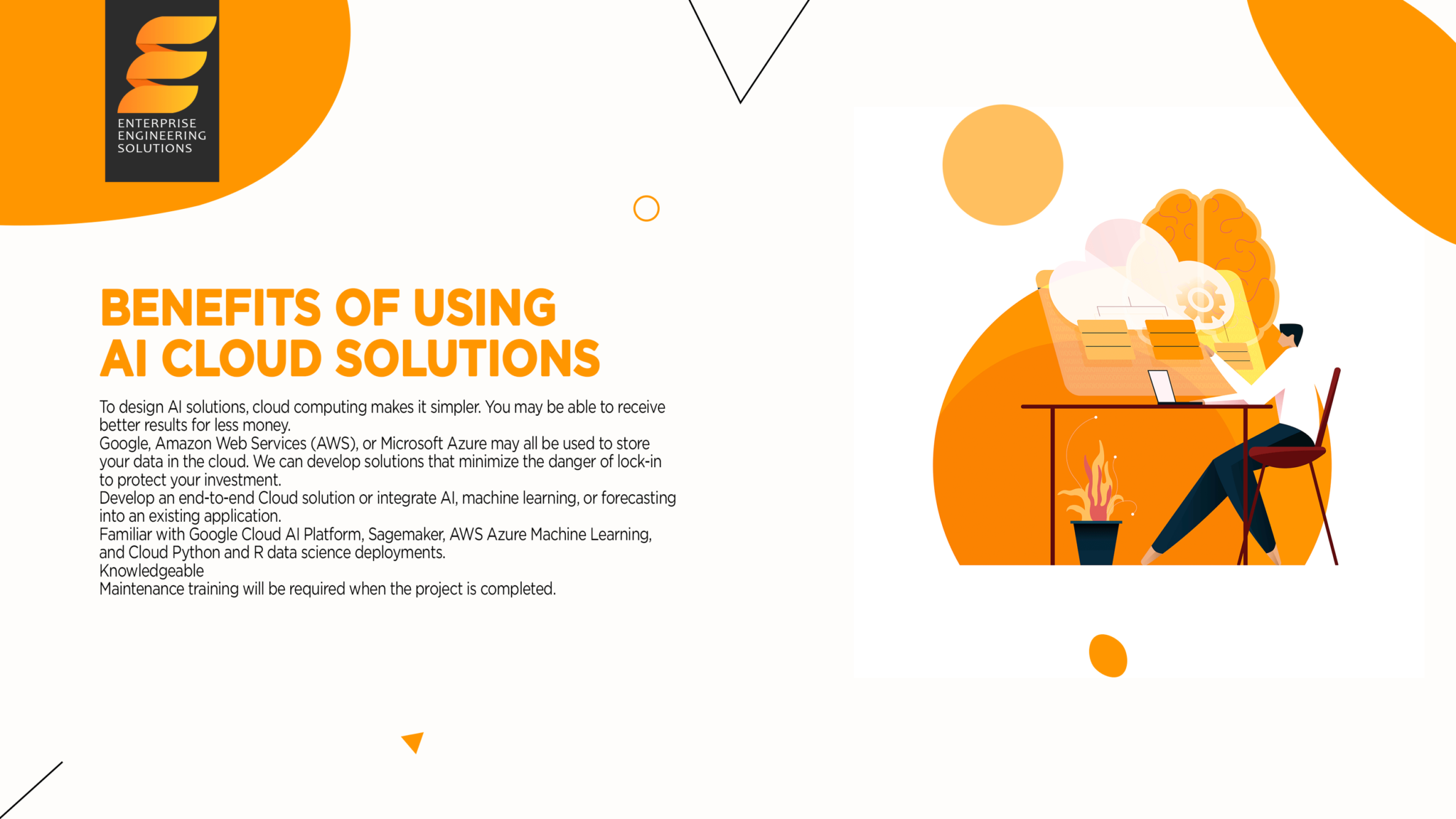 To design AI solutions, cloud computing makes it simpler. You may be able to receive better results for less money.
Google, Amazon Web Services (AWS), or Microsoft Azure may all be used to store your data in the cloud. We can develop solutions that minimize the danger of lock-in to protect your investment.
Develop an end-to-end Cloud solution or integrate AI, machine learning, or forecasting into an existing application.
Familiar with Google Cloud AI Platform, Sagemaker, AWS Azure Machine Learning, and Cloud Python and R data science deployments.
Knowledgeable
Maintenance training will be required when the project is completed.
Cloud AI Services Consulting
Companies are working hard to ensure that cloud computing services are consistently enhanced, although general and not tailored to specific requirements. Cognitive computing may teach a computer to provide certain services depending on the information it gets from its consumers. Finding the best algorithm or training model is no longer necessary.
Expertise from cloud computing consultants can help businesses take advantage of the most recent and finest cloud data centers, clouds, and data warehouses. Consultants aid in selecting and implementing best practices for your company's use cases in the cloud. If your firm is contemplating migrating to the cloud or implementing new technologies, hiring the services of a cloud computing specialist might be a good decision.
Cloud consulting services are provided by several prominent firms, including Deloitte, Accenture, AWS, Capgemini, IBM, Cognizant, too many of the Fortune 100 global enterprises. These cloud consultants' clients have very particular and comprehensive requirements from all across the globe. A cloud AI services consulting firm with an excellent reputation and considerable industry experience may be the ideal choice for medium- and small-sized businesses. NextPhase.ai, for example, is a fantastic choice. We provide a wide range of cloud services for several platforms.
Final Verdict
It is becoming more critical for organizations to secure their data in the cloud as more and more cloud-based services are used. Using AI-powered tools, IT departments can monitor and analyze traffic on their networks. A flag may be raised when an AI-powered system notices anything out of the ordinary. This proactive approach assures the safety of confidential information. An example of this is Amazon GuardDuty, which uses AI and machine learning to detect potential risks.
AI cloud solution has made data processing, administration, and organization simpler. AI's marketing, customer service, and supply chain data management may benefit substantially from more reliable real-time data describing how AI can improve cloud computing. Data can be consumed, updated, and managed more efficiently using artificial intelligence (AI) tools. Use Google Cloud Stream analytics for real-time personalization and anomaly detection to help IT organizations better plan maintenance scenarios.