Containerized data center is a concept that is one of its kind, innovative, beneficial, and equally challenging. The idea of making your data centers in a container was first introduced in 2007. And since then, numerous international companies have adopted this way of keeping their IT infrastructure well-organized, secure, and at easy access. With time, container data centers have become amazingly popular, and that has urged the providers to deliver a variety of cooling options, sizes, space, and layouts.
In simple words, we can explain containerization as a solution for the companies who lack experts and skilled staff to maintain the IT as it usually comes with ready-made plug and play units. It means no employees are required! It is a reasonable compensation to the brands lacking human labor.
Manufactured on standardized technology, containerized data centers need to be assembled by competent personnel. Well, most of the time, container data centers demand no extra hands for designing or assembly. It will keep your data maintained, organized, and flowing smoothly.
What is a Containerized Data Center?
But what is precisely "containerization" and "containerized data centers"?
Containerization is a practice where the technology experts use modular blocks to make a whole IT setup inside and bring every required equipment to work in a data center effortlessly. Built inside the modular boxes, the containerized data center is exclusively designed and organized to provide a perfect mix of generators, networking equipment, cooling equipment, servers, uninterruptible power supplies, and storage devices.
You can call them pods as they look like one. As per the provider you have chosen, and considering the need of the business, containerization can be used for both permanent and temporary deployments. Its best use is in disaster areas or construction sites. In simple words, these are the "shipping containers". The most usual way of cooling is water for containers.
What is more?
Well, it is a place where companies have been saving extra data because it provides an entire digital setup offering additional servers. Especially for those who are not planning to move to the cloud can use containerized data centers as a source of storage.
Pros of Choosing a Containerized Data Center?

Free Up Space
Shifting your complete IT setup to a container will leave you with more than enough space inside your building as you will not need tons of room for building a data center. You will be free to use your available valuable square footage for making more offices.
Easy to Deploy
Apart from giving extra space, it offers easy maintenance. First, containerized data centers are generally made weather-resistant, so no need to worry about its damage. You can place them anywhere outside your company premises and even in underused spaces.
And, secondly, containers take less space although they are massive in size. How? Because you can easily stack them, and they won't topple over. And, yes, they offer easy entry to all the containers separately through access doors that can be found on either side.
Faster Scalability
We all know how essential scalability is for running your company smoothly! And containerized data centers bring easy scalability right at your door.
Need to set up more equipment? Need more storage space? Not a big deal! All you have to do is ADD SOME MORE CONTAINERS AND STACK THEM UP! It let you meet the all-time changing demands of the organization rapidly and effortlessly.
Made Energy Efficient
The most highlighted advantage is its energy-saving feature. They are made energy-efficient, so you can save the cost regarding ongoing operational expenses. Its unique modular design comes with all integrated power systems and cooling equipment that also plays an essential role in minimizing the infrastructure expenditures and installation timeframes.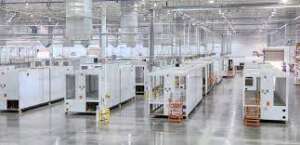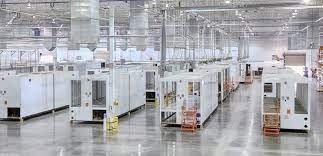 Few More Important Benefits Include
Containerized data centers can give significant cost savings.
Being a temporary stage, you can try implementing new IT strategies to check whether they will be aligned with your company or not.
They are portable, so you can set them up anywhere anytime. Whenever you feel the need to move, be free to transfer them anytime.
Containerized data centers are generally made soundproof, too.
Cons of Choosing a Containerized Data Center?
Although it maintains the whole IT infrastructure, it still lacks the same efficiency as an actual data center.
Container data centers do not offer numerous built-in redundancies in place.
No doubt, containerized data centers let you have an advanced modular approach for growing your company's IT infrastructure, cautious planning and strategies are still compulsory to guard your technology investment.
To set and assemble them first, you need to have a team of specialists who can help and advise you to run them.
A single point of failure can shut down an entire container data center.
Finding the right location can sometimes be challenging as they tend to work on different cooling systems. The possible options are air and water. Consequently, the favored cooling system will disturb the planning, affect the place, and locate the data center.