Even if you are in the IT field, you may have some confusion about "cloud storage" and "cloud computing" because they are pretty interchangeable. Believing that both services are similar, sorry to break it to you, this is far from the truth!
We are not saying cloud computing and storage have no similarities, obviously, they do, BUT they tend to have completely different meanings. Being diverse concepts, they are interconnected in multiple ways. We can say they are somewhat related as they are derived from the equivalent source that is 'cloud'.
As evident it is, both are internet services designed to meet separate purposes. The purpose of cloud storage is to provide hard disk storage, whereas cloud computing is made to fulfill computing needs.
If you are also one of those who are planning to shift their business to the cloud, you are making a sensible choice. But, hold up! First, you must know the difference between cloud computing vs cloud storage. Or else, you may fail to pick a suitable option.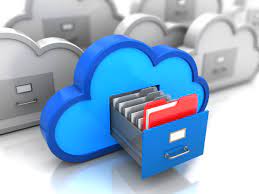 What is Cloud Storage or Cloud Storage Services?
Highly simple yet most functional cloud technology that includes famous names of Google Drive and OneDrive.
Their purpose? There is only ONE: Saving data on the cloud!
Well, cloud storage goes beyond saving as it stores and lets you have a safe backup of your data. An efficient backup system, indeed it is! Saving you from the tension of spending money on hardware, cloud-based information storage is a cost-effective choice and more secure, too. You will get petabytes of space for storage depending on the service provider you choose. The other features include impressive redundancy and backups.
Examples of Cloud Storage
Google Drive
DropBox
iCloud
OneDrive Personal Storage
Photo uploads to social media
For Business:
Data Servers
Website Hosting
Virtual Desktop Hosting
What is Cloud Computing?
Cloud computing means enabling cloud computers to achieve specific computational responsibilities that are completed not only based on providing storage but also several simple applications. It works more than just saving your data and having a backup. It is designed for fulfilling high-end processing-intensive jobs from several fields or niches.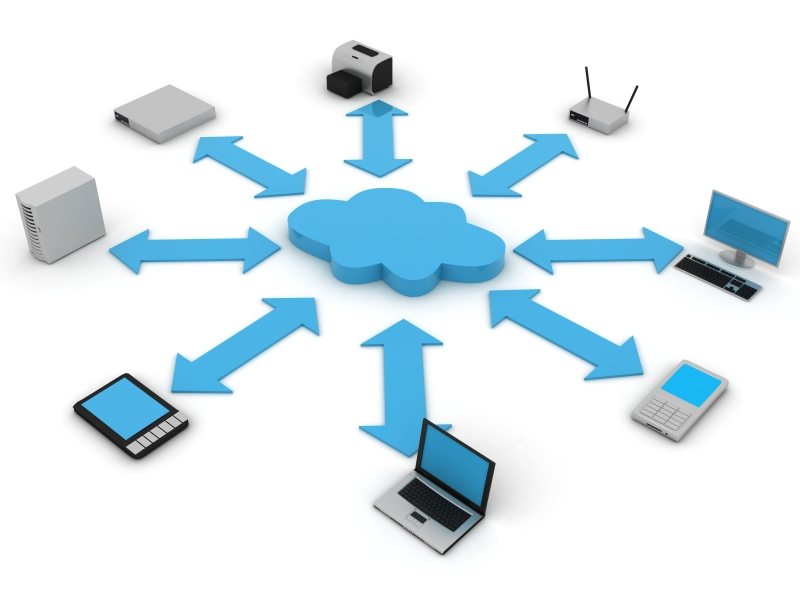 Examples of Cloud Computing
Google Docs App
Photo Viewer App
iChat
Outlook Online
Social Media Apps
For Business:
Remote Data Analytics
Website Content
Management System
Remote Desktop Access
Remote Application
Usage
Cloud Storage vs Cloud Computing: Differences
The user cannot make any changes to the stored data except to host it in cloud storage. Although, data can be accessed online anytime, anywhere. But, in cloud computing, the user can do things he/she desires to with the saved data and bring transformation.
Where Cloud computing must possess advanced processing power, the Cloud storage should be able to provide massive or as much as required storage raw space to the users. But why? Cloud storage is based on a few aspects such as uploading, saving, and sharing data. While cloud computing lets you work on your stored data taking your business to a higher level.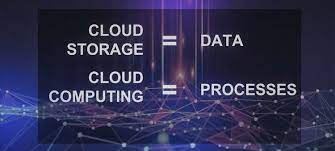 For business, Cloud computing is particularly chosen as it completes high-end tasks. But for individual use, Cloud storage can be helpful enough. Well, cloud storage seems to be helpful for both professional and personal usage.
One of the significant differences is their active and passive approach. Cloud storage is passive, and Cloud computing is active. Being a more complicated service, cloud computing brings a vast range of remote services
For Cloud storage, you don't necessitate excessive computational hardware. All you need is hard drive space and advanced software to help you handle the data. Cloud computing demands much more! The key demand is to have the leading processing power.
Similarities Between Cloud Storage and Computing
Both cloud technologies are supervised by the third party (owned and controlled by other companies)
They are not available for free. To use the services, you need to pay. And, choosing the best provider is totally dependent on the business or personal needs.
You can scale up or down the computing or storage services features as per the business or personal needs. It means you will be paying for what you use and when you use it!
Neither will work without internet connectivity. The user must have instant access to the internet for retrieving data.
Both are cheaper options as saving you from substantial up-front expense
No matter what option you choose, both will offer a secure platform away from external damage, like natural disasters or hardware failures. Consider them the "off-site backup".