Hospitals are gradually shifting to technology for developing more sophisticated, advanced, and cutting-edge equipment that will assist the patients and their providers in multiple ways. It is unbelievable how cloud technology has drastically changed the approaches used to take proper medical care of seniors.
The significant influence of cloud services has been seen in improving the quality of home-based therapeutic care for the elderly. Especially if you are from the medical field, you already know the unlimited benefits of Health-Monitoring Technology that has been used globally for senior care. Cloud services for seniors have been revolutionized.
For easy application and maintenance, the technology has Simplified the medical apparatuses that are also part of all-time accessible Clouds. If you are still wondering HOW you must know that cloud technology has supported us in keeping all medical gadgets and critical (patient) data incredibly seamless and reachable from anywhere, anytime.
The medical care apps with an easy-to-use interface have been found valuable addition in the lives of seniors as they tend to keep them socially connected and in immediate accessibility with caregivers. This futuristic technology of Cloud services for seniors exists and is predicted to take over the healthcare sector in the coming decade.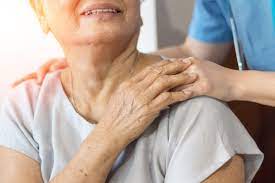 No doubt, cloud-based medical technologies need to be advanced and still in the progressive phases, but one simply cannot deny their importance, brilliant application, and functional features. Cloud technology help decrease medical costs while increasing flexibility. The remote monitoring and medical evaluation of the senior patients have aimed to improve the care without spiraling the cost.
IT and healthcare professionals predict the evolution of sensory networks, biosensing, robotics, and telecommunications devices that would change the face of medical techniques applied to take care of the elderly. You must have heard about the consumer-focused wearables that can monitor heart rate, body temperature, blood pressure with all other vitals and can detect falls. Such cloud services for seniors can be a positive start to a better and healthy life.
Data Shifted, Stored, and Shared Through Cloud
In the market, hundreds of devices designed to monitor and evaluate patients' vitals (BP, heart rate, breathing rate, blood sugar, body temperature, etc.) and directly upload them on a cloud so your provider/doctor/physician will know the details of your current health status. Consider it invisible storage. Transmitting this data and sharing it over the cloud automatically with consultants has been found highly appreciable. Why? Because…
FIRST, it keeps the data stored as history. SECOND, the patients don't have to travel and visit the clinics physically. THIRD, the expenses of buying multiple apparatuses to check vitals will be eliminated. FORTH, the patients themselves can keep a close check on their health. And FIFTH, the information saved in the cloud is quickly accessible by any consultant.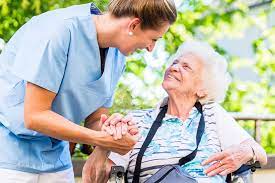 Modify the Behavior
Keeping cloud services for seniors with an age-friendly interface can help bring the required changes to the behavior, habits, and routine in a brilliant way.
Suppose you are using a wearable or at-home monitor that is made for providing patients with all the necessary information, so whenever you try eating unhealthy snacks, it warns you and reminds you to stop yourself from indulging in such harmful habits. Sounds pretty awesome!
Cloud services let you set a reminder, so you know when to take medications when it's time to exercise or eat your meal. We all know, as we grow older, we tend to forget to do basic chores. But, such technology can take care of us by reminding us about the tasks that need to be completed. Technology has made our lives comfier.
Reduces the Cost of Hospital
Using cloud services for seniors care has amazingly lessened the cost of living by reducing certain expenditures such as the cost of:
Transportation or visiting hospitals on a weekly or monthly basis
Purchasing expensive devices to check the health status
One Cloud – Multiple Uses
Now, you can use ONE app for checking your everybody vital that is needed to be taken under consideration. A very famous app called HeartPal is made for monitoring blood pressure and logging, tracking, and analyzing it. In the cloud, you can share all your checkup details. Usually, the highly advanced apps share data automatically.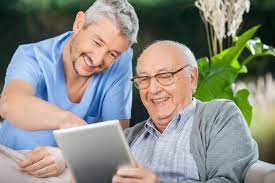 Technology has played an essential role in minimizing this risk as several global healthcare companies have introduced medical alert devices. Yes! Alert device and they could be necklaces, bracelets, or in the shape of any accessory. The senior wears them, and in case of fall or if the patient needs instant medical assistance, it gets activated, sending the signals for a medical emergency. It can significantly reduce the waiting hours for the medical experts to come by and help.
"Smart home technology" has been trending, and it deserves to be treasured. Such technologies which use voice assistants and sensor-based lighting can be a great help for seniors to communicate.