What is the essential thing of any business that needs to be secured and guarded at all costs? The information because the business runs on it! And cloud infrastructure management service is helpful for this.
The most feasible assured, and secured way to keep your data saved in privacy and at easy access is using the cloud. You can get yourself a flexible Cloud infrastructure from any famous and reliable service provider, including Amazon Web Services, Microsoft Azure, or Google Cloud. Having all-inclusive cloud management designed for your business excludes the chances of security breaches, data loss, or a huge downtime.
Especially in the tough time of the pandemic, cloud computing has transformed the face of IT. Being a cost-effective option, cloud management emphasizes the importance of a modernized and digitalized world. It has enabled multiple globally leading brands to revolutionize, function, and carry out their businesses more punctually and professionally.
What factors make Cloud infrastructure management such a fantastic tool to use? The up-to-date computing competencies, networking speed, and space for saving data. Loaded with maximum management capabilities, cloud infrastructure serves to protect your data and provide a stable backup and recovery in all brilliant ways.
Top Benefits of Cloud Infrastructure Management for Any Business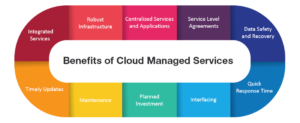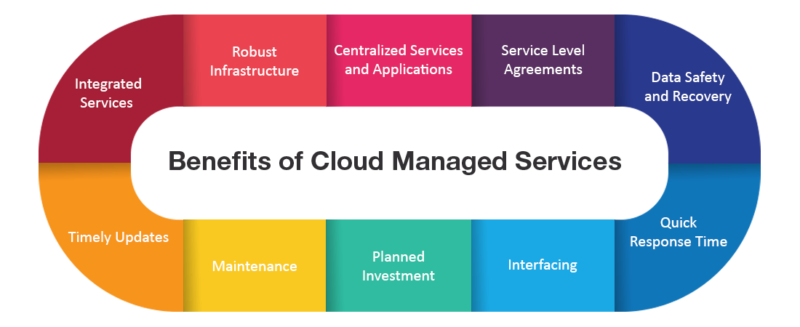 Get Rid of Hardware Maintenance
The most significant advantage of incorporating cloud infrastructure management into your business is the "zero server maintenance" it offers. Having no hardware on-site means no real-time maintenance or up-gradation is required. Typically, after a couple of years, hardware systems should be replaced that could cost you money and time as it is a complex operation to carry out.
With cloud computing services, you don't have to go through these time-laborious and expensive procedures, letting you invest your vital resources in other important aspects.
Custom and Integrated Service
Unlike physical IT infrastructures, cloud-managed service providers offer flexibility. You can ask for any feature you want, and the providers will upgrade your package customizing it to your needs. All you need is to pay for the extra services you are asking for.
These custom cloud services help you save more money as "pay-per-service or payment plans" seem to impact your growth and budgeting positively. The flexible features are available in security protection, networking, monitoring, and all other setups.
Frequent Updates
In hardware setup, you need extra time, labor, and money to bring some updates to your system, but with cloud tools, the latest features are upgraded on a regular basis without asking. Most of the cloud infrastructure management suggests updates frequently (weekly or monthly). Besides, sticking to the traditional approaches will only affect your services.
Data Backup
Cloud infrastructure management helps the business keep a secure and lasting backup for all their important documents. Comparatively, it saves money that you would be spending on hard disks, DVDs, etc., to save the data. Consider it the cheapest method to assemble and save data along with creating multiple backups through replication.
Besides, cloud backup can be accessed from any part of the world anytime without interrupting the internal processes. In case of any disaster, it also guarantees a fast and safe disaster recovery process.

Cost-Effectiveness
Who doesn't like to have all the expenses under control? We bet every business is always looking for ways to save money effectively! Cloud services can help the business control and minimize the overpriced network maintenance expenses.
Further, there will be no need to hire a full-time staff for looking out the IT structure. No hardware equipment is required! No extra space is needed to save the data or set the servers! Cloud computing cuts off expenditures on the devices that the company has been using.
Fast Response Times
Are you out of the country but need to access some important files? Not a problem! You can access the information saved to the cloud from anywhere. It helps the business to give better and faster responses meeting the needs of all users. Remote cloud infrastructure management has a quick response time.
Reduced Energy Expenses and Less Carbon Footprint
The highlight of using cloud technology is its feature to cut down your electricity bills as you will be using only the hardware you need to keep the remote work inflow. No extra servers, monitors, PCs, or hardware, saving all of your energy costs. The cloud can reduce energy use up to 87% annually (as per the resources).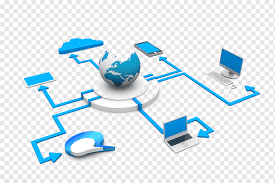 And, yes, you have heard it right! Cloud infrastructure management helps you make your future greener. How? Because you will be using email and other electronic ways to communicate, lowering the carbon footprint and benefiting the environment.
Also Read: Will iCloud and iOS 5 Change Your Email Marketing?