The way we live and conduct business with cloud computing has fundamentally altered. This collection of the most pertinent data, facts, and trends in cloud computing shows the extent and potential of this sector in the future.
The cloud. What was formerly a fashionable and sounding phrase for science fiction has become an unavoidable element of our daily life. Even if we grasp what the cloud does, it is a far more complex issue than it operates and evolves. This cloud-based statistics list provides you with a sense of how meaningful it is.
The cloud is one of the essential internet technologies utilized worldwide.
In terms of cloud usage, infrastructure, investment, and research, the cloud computing industry has had a steady upward path since the COVID-19 crisis.
We have compiled a list of 26 cloud computing statistics that are most interested, important, and informative, showing how large the cloud is and how it is expected to develop.
Of course, it is not feasible to accurately forecast what the future of cloud computing will look like – COVID-19 has demonstrated that it may alter everything, but it has emerged and is necessary to analyze some trends surrounding cloud technologies and cloud infrastructure. Even if we ignore this, current cloud computing statistics spoke volumes about the status and direction of cloud computing.
Is Cloud Computing Really Better for Business?
What we call the "cloud" exists as an entire server network. The servers contain data that may be accessed via an internet link. That is the core of all cloud programming, and you could say that the internet is functioning in its entirety. Because the Internet connection is all you need, cloud computing is ideal for commercial and personal usage.
Top Cloud Computing Statistics
Now, to explain why you initially opened this post – these incredible cloud computing data. We will look to the most exciting and essential information about gaming in the business, including cloud adoption rates and security issues, corporate infrastructure, cloud computing expenditure, and more.
General Cloud Statistics
According to Cybersecurity ventures, by 2025, the data will be kept in the cloud for over 100 zettabytes. A zettabyte is one billion terabytes to put this into perspective (or a trillion gigabytes).
In the same year, about 200 zettabytes of data are stored worldwide, meaning that almost 50% of the data are kept in the cloud. In comparison, just 25% of all data were saved in 2015 in this manner.
Cisco says that In Cloud data centers, 94% of workloads will be processed in 2021. That is not all – 75% of the entire burden for SaaS procedures. This shows that non-cloud data centers are now being removed and will be overtaken by cloud data centers in the near future.
According to Wikipedia, the Citadel is the largest ever built data center in Tahoe Reno, Nevada. Its largest installation now covers an area of 1.3 million square meters, with eight different data center constructions and server space of approximately 7.2 million square meters after completion of the campus.
What Are the Most Used Cloud Storage Services?
According to GoodFirms research, Usage & Trends of Personal Cloud Storage is as follows:
Google Drive is the world's most widely utilized cloud storage service, with an astounding 94.44 percent.
Next is Dropbox, the finest collaborative cloud storage, with an amazing 66.2%
OneDrive (39.35%), and iCloud (38.89 percent).
MEGA (5.09%), box (4.17%) and pCloud (1.39%) are also frequently utilized.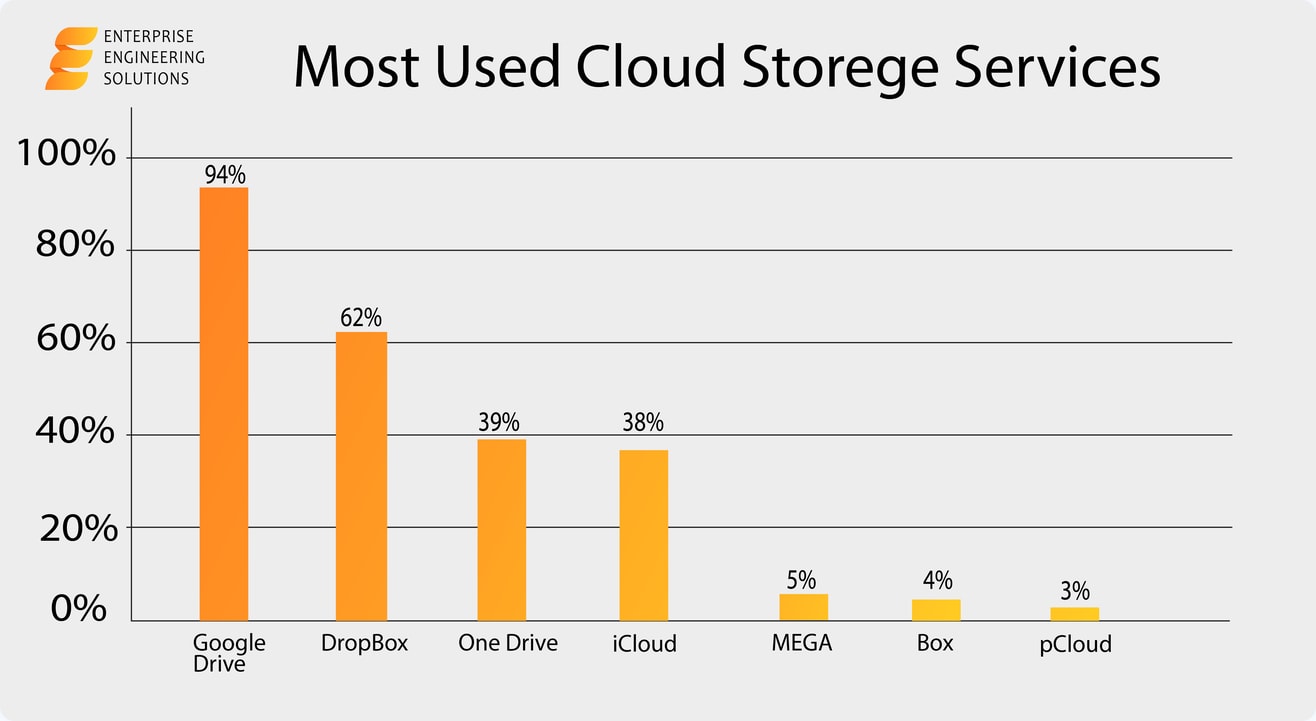 How Many Users Do the Largest Cloud Storage Services Have?
According to Axios, Google Drive achieved one trillion uses in 2018, with a total of 2 billion users of the Google Workspace club platform by 2020. The second most popular cloud storage service Dropbox has many user accounts reported by more than 700 million.
Cloud Computing Market Statistics
According to markets and markets, the overall market value was 4 billion dollars by 2020. With a CAGR of 17.5 percent, the market has been estimated to amount to 832.1 billion dollars by 2025.
Gartner Predicts, Worldwide end-user spending on public cloud services is forecast to grow 23.1% in 2021 to total $332.3 billion, up from $270 billion in 2020.
According to canalys, Amazon Web Services is a leading cloud service globally with 31 percent of the overall market share and by far one of the most popular and used.
According to macro trends, Salesforce is one of the top CRMs and has more than $200 billion of market capitalization. Nevertheless, the video conference service Zoom is the firm that probably benefited the most from the COVID-19 epidemic. The value is projected at more than 90 billion dollars, up from around 20 billion dollars in 2019.
According to report linked, North America is the world leader in cloud markets by region, with 61% of the overall market by 2020. The size of Western Europe, which holds 21% of the entire market, is three times that of the second-largest market. Africa is the smallest region in the market.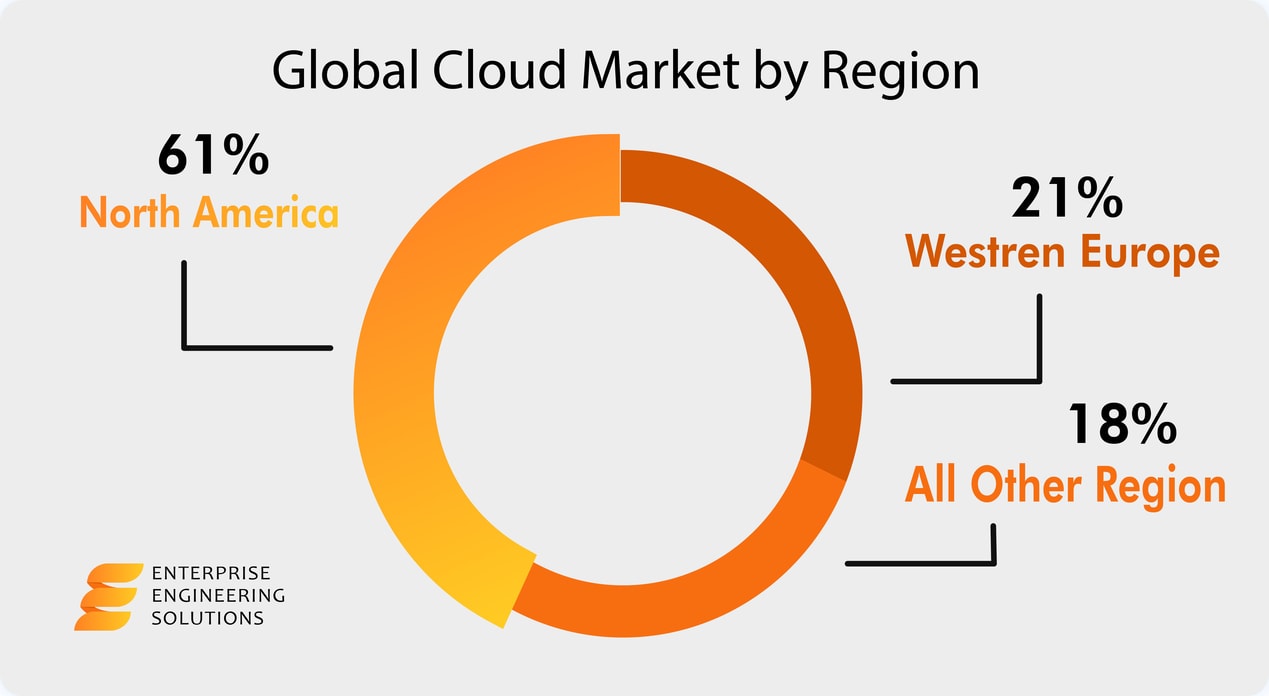 According to canalys, China's overall cloud infrastructure expenditure in 2019, the largest market in the Asia-Pacific region, increased to $19 trillion in 2020, representing a 66-per-cent increase.
Grand view research stated that Cloud gaming works similarly to streaming services; you may stream it to your display instead of installing a video game on your computer. The worldwide cloud game market was 470 million dollars in 2020. With a forecast CAGR of 48.2 percent, revenues of $7.24 billion are projected for 2027.
How Companies Are Using the Cloud
According to fortune business insights, the COVID-19 epidemic has significantly altered many parts of our life. A significant part of the workforce must go online faced with lockouts, social alienation, and similar tactics. About 34% said they prefer to work on the cloud and seek new jobs if asked to come back to their office.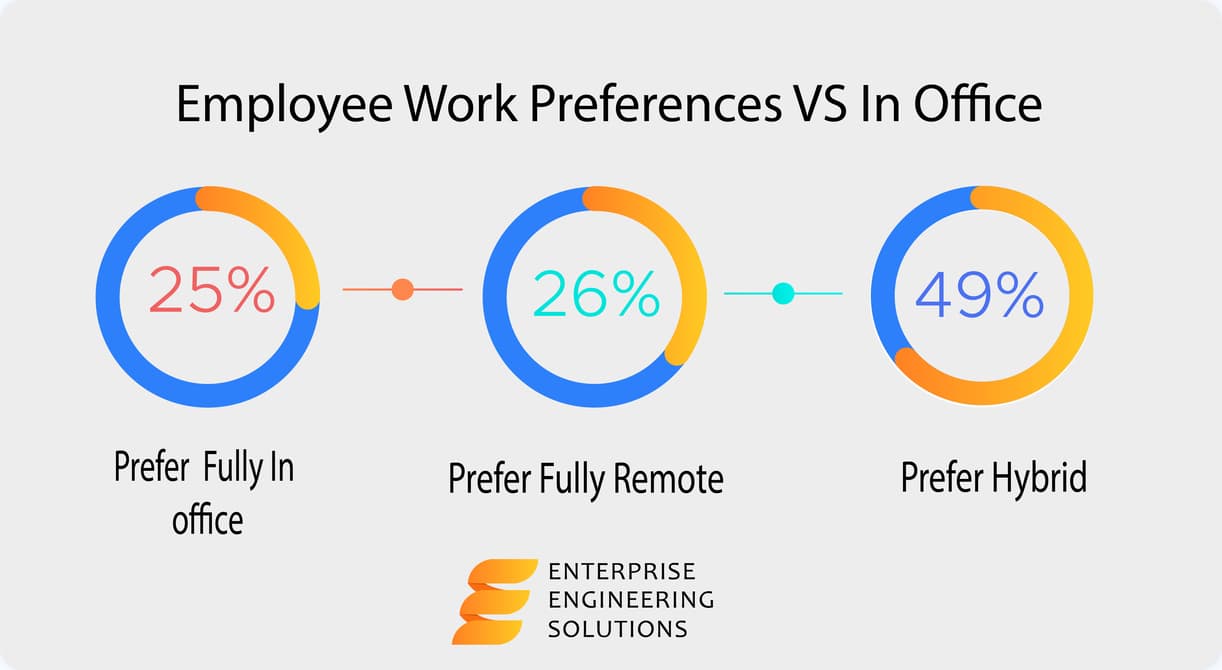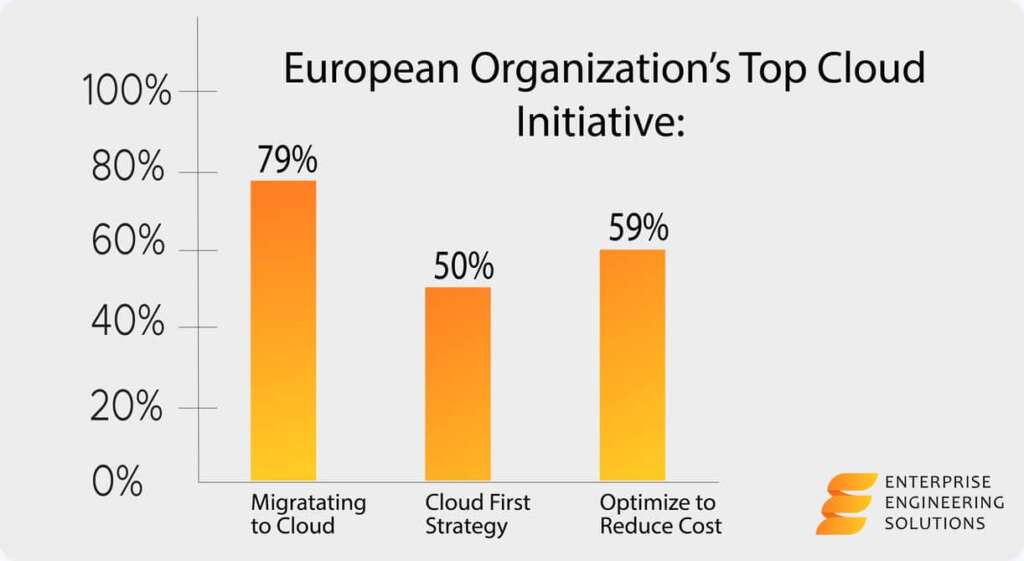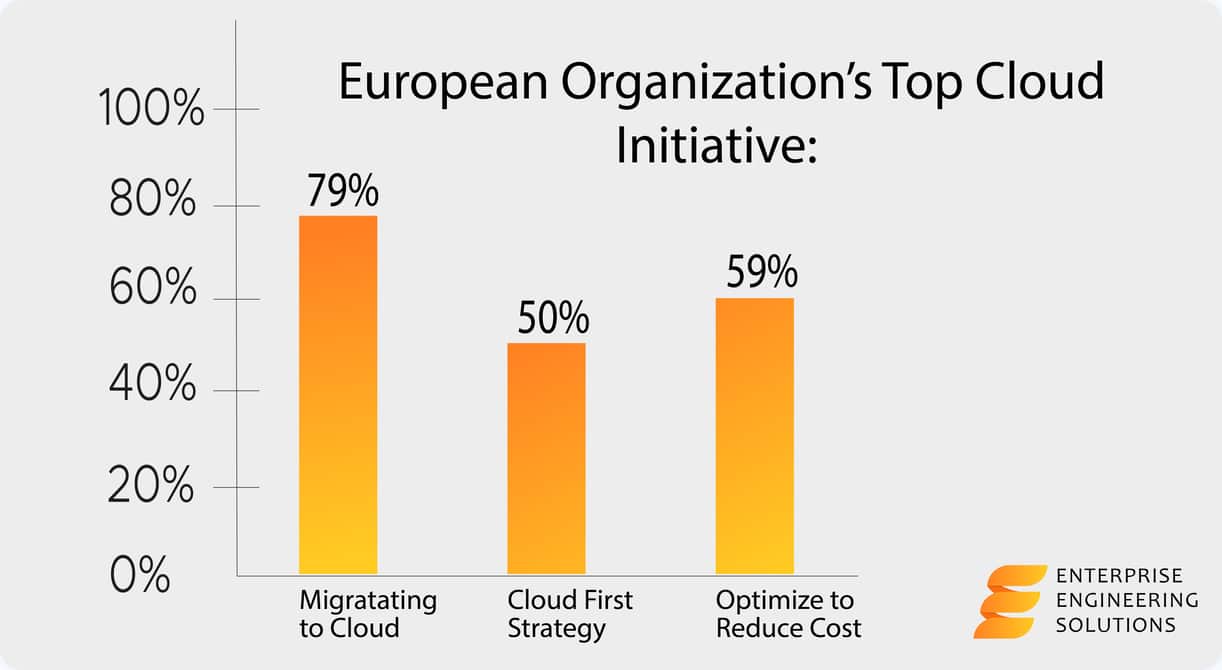 According to canalys Cloud infrastructure, expenditures rose to $41.8 billion globally in the first quarter of 2021. This growth amounted to 35% of annual growth and 5% of quarter-on-quarter increase compared to the same time in 2020. For this purpose, almost $11 billion more was spent than in the first quarter of 2020 and roughly $2 billion more.
According to markets and markets, In 2021, AI will spend 58.3 billion dollars, and by 2026 it will reach $309.6 billion. The cornerstone of many cloud technologies nowadays is machine learning that many companies and systems utilize to automate different operations. This is merely artificial intelligence, and it is not surprising that corporations seek ways of investing in and expanding this area.
markets and markets, In 2021, AI will spend 58.3 billion dollars, and by 2026 it will reach $309.6 billion. The cornerstone of many cloud technologies nowadays is machine learning that many companies and systems utilize to automate different operations. This is merely artificial intelligence, and it is not surprising that corporations seek ways of investing in and expanding this area.
Cloud Security Statistics
According to the checkpoint, It is hardly surprising that 75% of businesses are highly concerned with cloud safety problems. Of those who were highly worried, 33% were very concerned about 42%, while just 25% were not concerned about somewhat.
According to checkpoint Cybersecurity experts say that the main difficulties in terms of cloud security are cloud misconfiguration (68%), illegal access (58%); unsecured API (52%), accounts, services, or traffic hijacking (50%), and the share of external data (43 percent).
According to the checkpoint, Since Cloud Security is so popular, it is not surprising that organizations are searching for safe cloud service. More than half (52 percent) of companies choose cloud solutions with their native safety features.
Human Error Accounts for the Majority of Cloud Data Breaches
According to tessian, When we think of cyber assaults, we frequently see hackers exploiting the integrated cloud IT infrastructure flaws. The fact, however, is considerably worse and comes mainly from staff errors. Human error is responsible for cloud failures, not cloud providers, in 88 percent of cases. With 34 percent of males, phishing schemes are twice as frequent as women (17 percent).
The main message is that while cloud safety is vital for every organization, it is essential to have adequate staff training and stringent security rules.
Recent Trends in Cloud Computing
According to fortune business insights, The world's cloud storage industry amounted to over $30 billion in 2017, and in 2020 it continued to grow to over $61 trillion. In 2021, this market is anticipated to expand to about $76 billion. It reached about $390 billion in balloons by 2028, with a CAGR of 26.2% between 2021 and 2028. Although the epidemic may largely contribute to this phenomenal rise, this sector was well ascending well before 2020.
A more comprehensive production of enormous data sets, which necessitated more file storage, is the main force behind this growth. Thus, limitless cloud storage services are the ideal answer to this problem.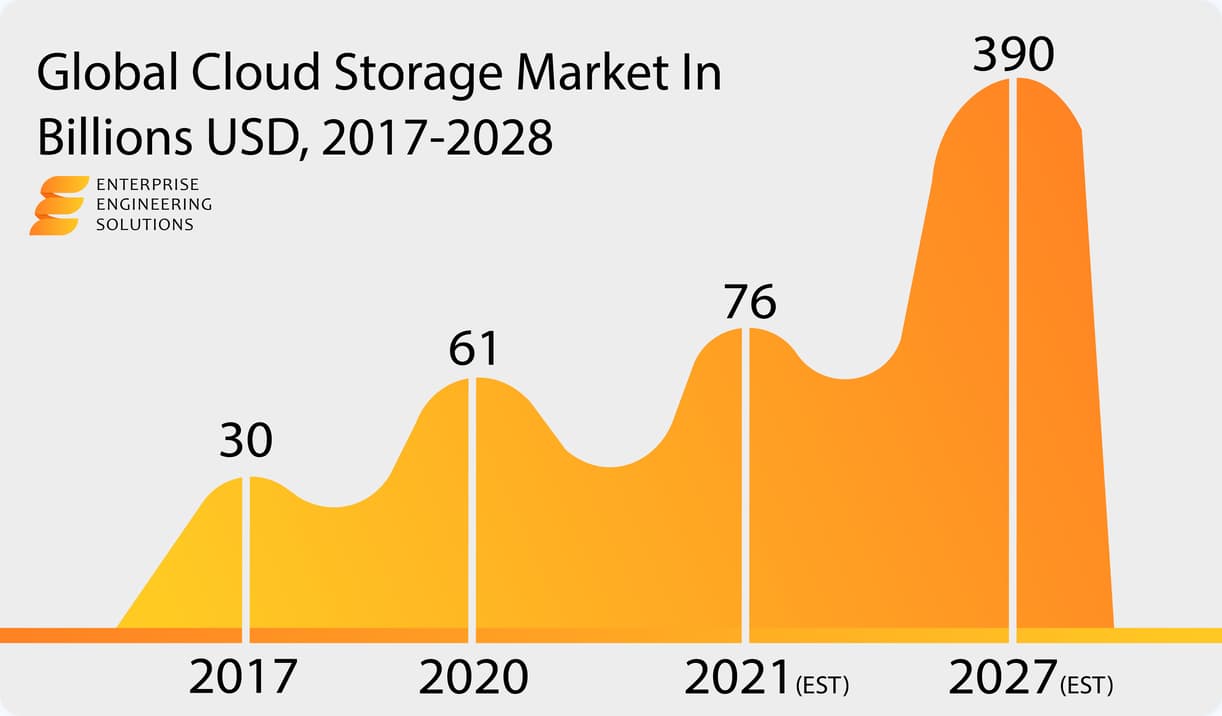 The advent of the Remote Desktop Software Market
We have previously said that remote work became quite influential in 2020, and it appears that it is here to stay. Working from the comfort of your home is simpler than ever, using technologies like Slack (and its numerous options). Of course, remote software has been followed.
According to fortune business insights, In 2019, the software market for remote desktops was 1,53 billion dollars, and it is predicted that the total value of CAGR 15,1 percent will reach $4,69 billion by 2027. This software category includes remote desktop applications like TeamViewer and Chrome Remote Desk, which enable you to connect to and work via distant internet connections to a remote computer.
A symbiotic connection exists between cloud and artificial intelligence (AI). Whereas AI enables cloud computing – data management, insight, and workflow optimization – the effects and breadth of IA are enhanced by cloud computing. It is projected that AI's worldwide market value by 2025 would reach over 89 billion dollars per year, which means that businesses not taking up this trend will be behind in competitiveness.
Cloud services democratize AI so that companies struggling with the high entrance hurdle can utilize it. Investing in AI traditionally involves a high level of technical expertise, computer power, and huge cash. However, organizations may use and benefit from the technology with AI supplied via cloud services without making huge upstream investments.
Combining AI and cloud services allows companies to make the most of both applications. The cloud provides the expensive on-site gear and software with an economical option, while continual data backup and recovery are alternatives to typical settings in a virtual environment. At the same time, AI enables the cloud to manage data and acquire insight into information disseminated throughout the system.