Before we start the debate on Capgemini vs Infosys, you must know what they are, how they function, and what exactly their purposes are. So, let's start!
What is Capgemini?
With its powerful 50-year establishment and industry expertise, Capgemini offers Cloud, Information Technology, Outsourcing, and Consulting services. This brand ranks number 523 on the list of Best Global Brands, a list of recognized brands carefully rated by customers. Also, it ranks 165 among its major competitors in the IT industry.
It is a worldwide leader in IT and helps companies across different industries upgrade and manage their business leveraging technology. The group uses technology to unleash human energy and build an inclusive and sustainable future. Clients trust Capgemini to sort all their business needs, including strategy, operations, and design. Thanks to the rapidly growing and innovative world of cloud, AI, data, digital engineering, and software.
Overall, Capgemini has a neutral social sentiment when analyzing social media channels and online mentions. And it is a responsible and diverse organization with over 300,000 team members spread across 50 countries. Thanks to the rapidly growing and innovative world of cloud, AI, data, digital engineering, and software.
What is Infosys?
With over 40 years of establishment in managing systems and digital transformations of global enterprises, Infosys is a worldwide leader in providing consulting, technology, outsourcing, and next-generation digital services. The brand ranks at number 501 in the list of Best Global Brands. Customers carefully rated it from a list of top global brands. Although, it ranks number 154, compared to other companies in the tech industry.
Also, it has a neutral social sentiment when analyzing online mentions and social media channels. Infosys expertly guides clients through their digital journey by helping them implement an AI-powered core to help drive seamless execution of change. It empowers organizations using agile digital scales to deliver refined performance and boost customer satisfaction.
Infosys has a continuous-learning practice that drives perpetual improvement by building, growing, and transferring digital expertise and ideas from its large innovation ecosystem.
Capgemini vs Infosys NPS Score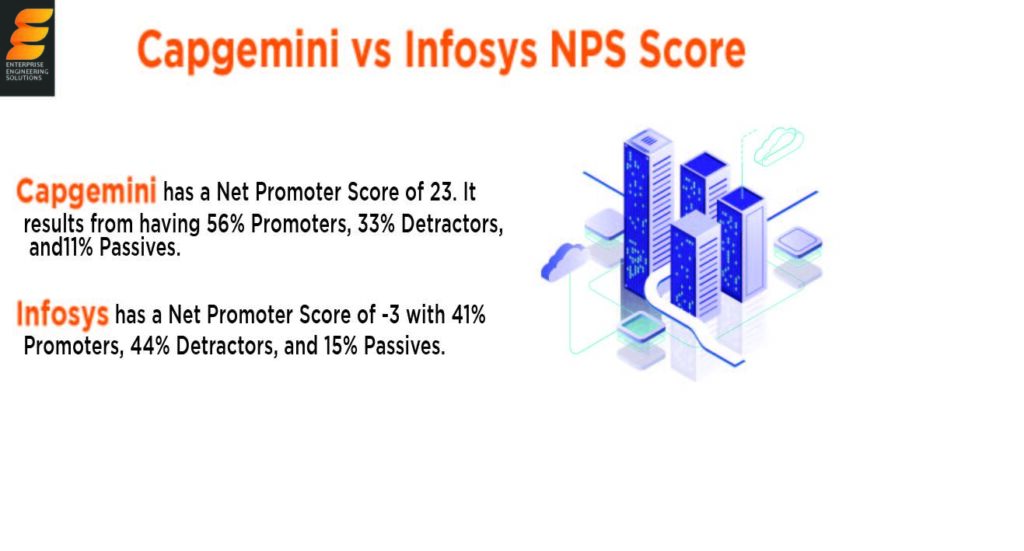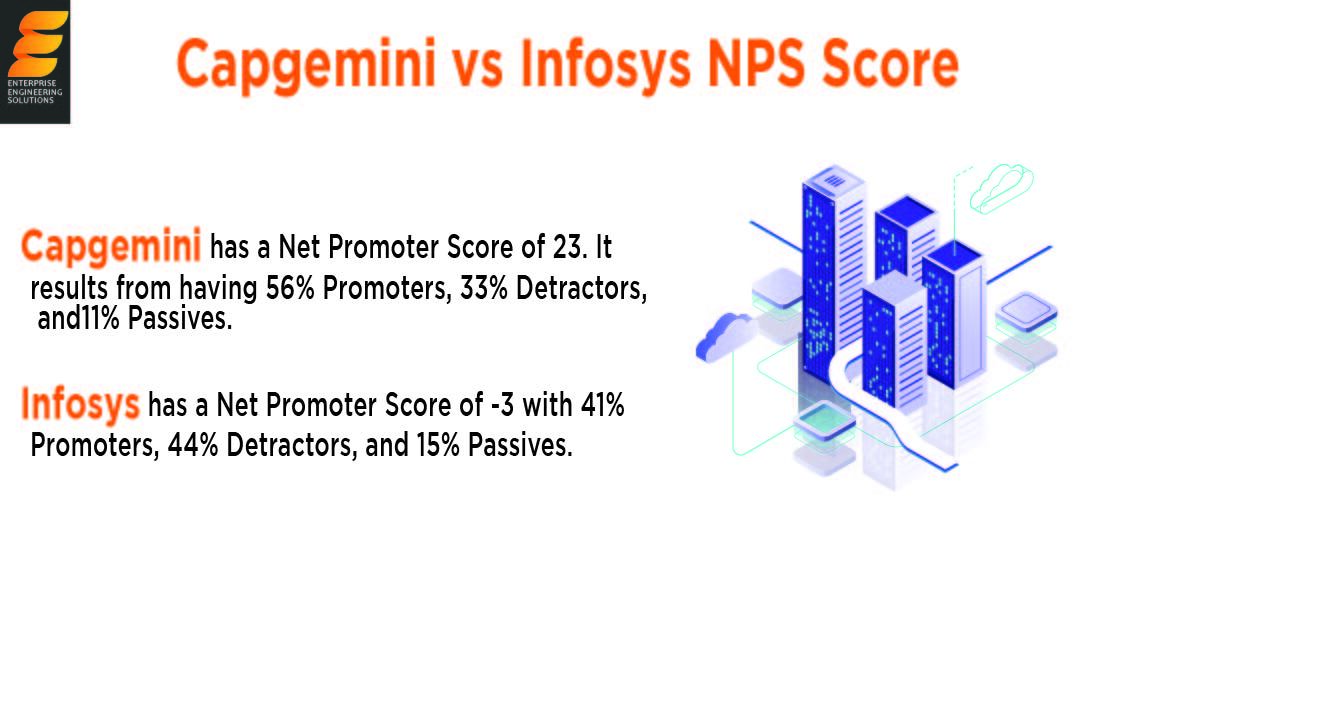 The Net Promoter Score (NPS) is a management tool that helps to measure customer relationship satisfaction. A widely adopted key metric substantially links a business product or service to the revenue opportunity. The NPS gets determined by customer responses to a question that asks them to rate how eager they are to recommend the product/service to a friend, "On a scale, of 0 to 10. They can also actively recommend that people stay away from using your product or service.
Capgemini has a Net Promoter Score of 23. It results from having 56% Promoters, 33% Detractors, and11% Passives.
Infosys has a Net Promoter Score of -3 with 41% Promoters, 44% Detractors, and 15% Passives.
Pricing Plans
Capgemini
Users who rank the monetary value and the highest ROI are primarily from the tech industry. Also, not all the products or services provided will fit all the needs of a particular user or industry. Therefore, customers from the Banking and Financial Services industry typically report the lowest ROI from Capgemini. Hence, pricing plans may be relative depending on your industry service needs.
Infosys
The customers that rate their value for money and the highest ROI are primarily from the accounting industry. And in this case, clients from the Tech industry typically think that they get the lowest ROI. As we said, pricing plans may be subject to change depending on your industrial demands.
Capgemini vs Infosys Pros and Cons
Advantages of Capgemini
Capgemini is a partner that takes time to understand customers' business dynamics and highly respects their perspectives while pushing towards best practices.
Monetization is not their principal goal but to invest in relationships and clients' success.
Robust technical expertise.
A mix of onshore and offshore professionals.
Advantages of Infosys
Business Pace, flexibility, insight
Shared responsibility as they have a powerful ability to collaborate across multiple teams in an ecosystem.
Infosys is open to feedback.
Persistent with partner relationships, support, and ownership.
Experience in the B2B domain and technology leadership.
Disadvantages of Capgemini
When talking to senior executives, the team may require extra "hand-holding" to nail down your specific needs
Pricing is not always very competitive
Planning knowledge transfer in case of team-member replacements is not always smooth
It lacks a little executive communication
Disadvantages of Infosys
Resources ramp up when the need for more programs arises
Handovers require extra planning
You may need extra help to comprehend documentation
Infosys contracting is a little complicated
You are welcome to enjoy top-class asset, business, records, and customer relationship management with EES for optimizing network and data communication workflows. Our well-structured IT Management Services not only supervise your IT infrastructure but also help you use technology for better strategizing, Verification, and Validation to achieve innovation.