Before jumping on to the discussion of Capgemini vs cognizant, the reader must understand their business and workflows. So, let's start!
Introducing Capgemini
Capgemini is a world-class leader in providing digital transformation, technology, and engineering consultation services. Building on a 50-year heritage and industry-specific expertise, it vigorously innovates solutions addressing all clients' cloud and digital needs. It enables businesses to realize their business goals using various services, enhancing strategy for operations.
Capgemini processes large amounts of personal and business data. It upholds a responsible and diverse organization of 290,000 team members spread across nearly 50 countries.
It is a global leader in partnering with companies from different industries to transform their business using the full power of technology.
The Group roots its purpose in unleashing human potential by using technology to help businesses build an inclusive and sustainable ecosystem.
Its clients trust Capgemini to in-depth address all their business needs, from strategy and design to operations. It provides solutions that keep up with the rapidly advancing data, cloud, AI, connectivity, digital engineering, platforms, and software standards.
Capgemini reported global revenue of €16 billion in 2020.
Introducing Cognizant
They built Cognizant services based on "Delivering Insight at Speed and Solutions at Scale." Its consultants mastermind many game-changing solutions that encompass cross-industry design, strategy, technology, and functional knowledge. Cognizant solutions leverage value and trust to elevate and enhance the business aspirations of customers and team members.
The primary focus of their diverse digital and industry expertise includes:
Insight: Cognizant puts fundamental, live research into its targets at the core of every project engagement and development. It includes ethnographic and anthropological research.
Customer Experience: It employs human-centered approaches to deliver products and design advanced core principles.
Team Member Experience: Cognizant helps clients build effective teams with the right skill sets. Businesses can make necessary adjustments to make human inclusiveness a core driver for cultural change.
Cognizant gears to deliver insights that help organizations predict customer needs and instantly deliver their expectations. They effectively assist modern businesses in staying one step ahead of their competition in a fast-changing world.
Capgemini Vs Cognizant – Service Delivery and Consulting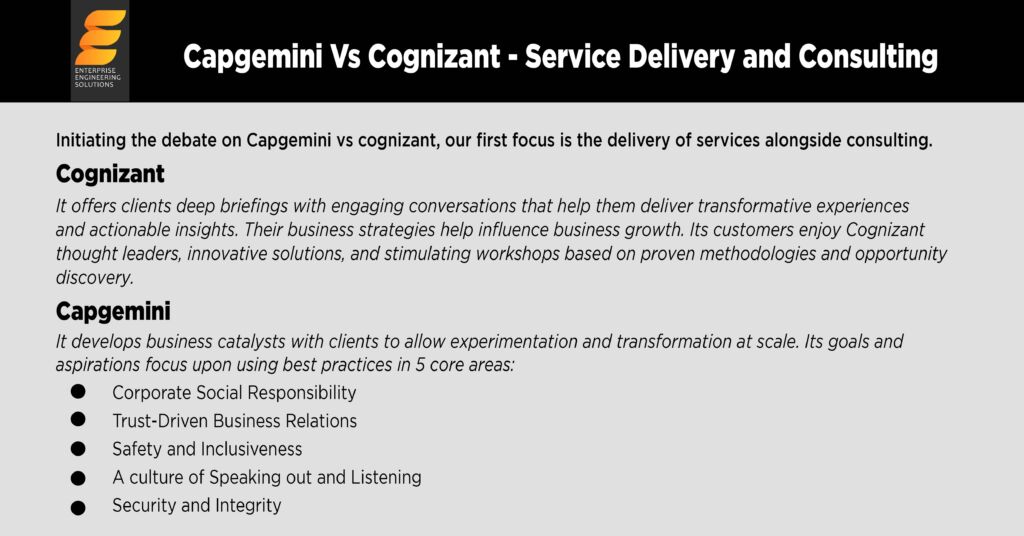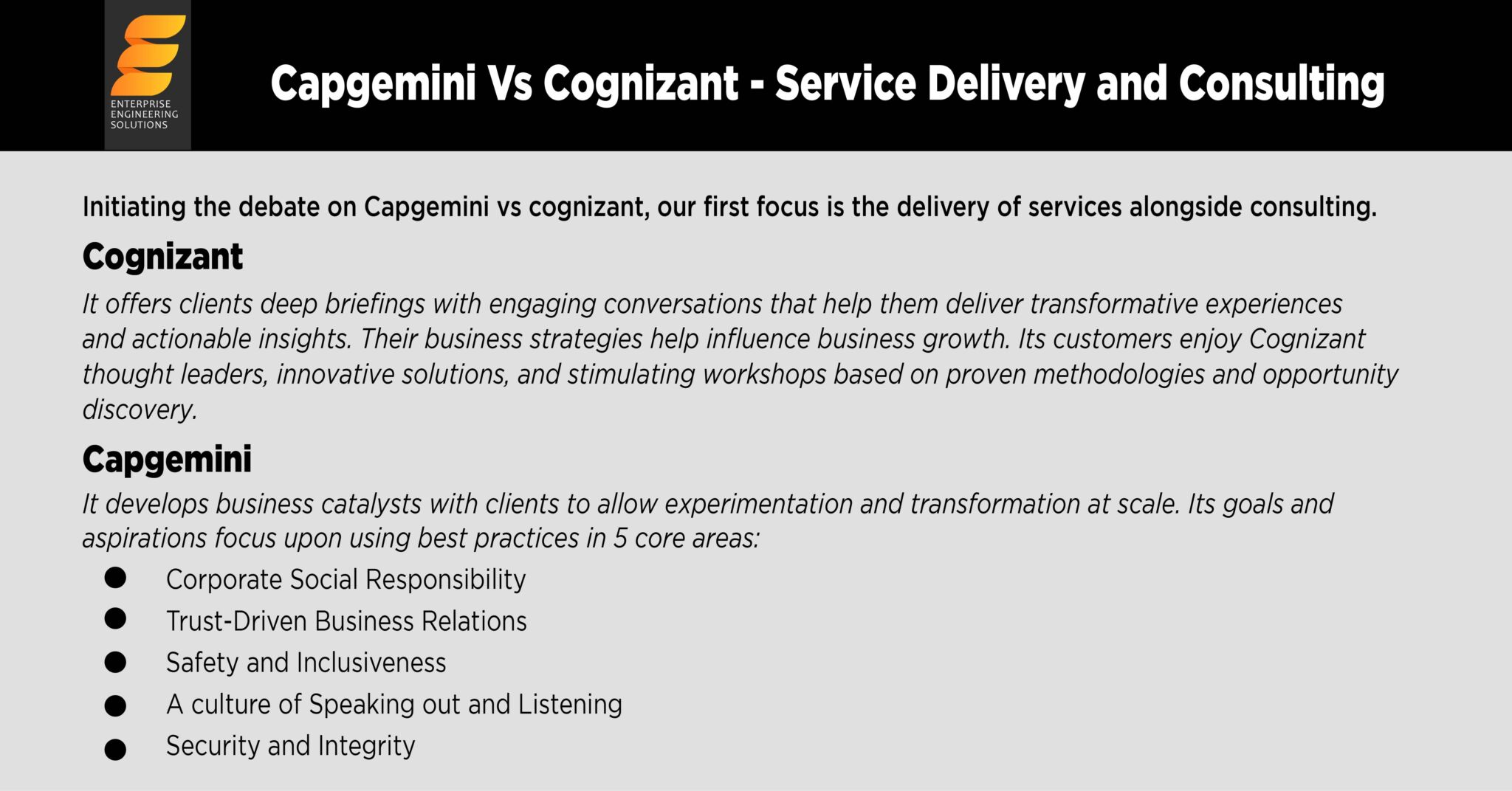 Initiating the debate on Capgemini vs cognizant, our first focus is the delivery of services alongside consulting.
Cognizant
It offers clients deep briefings with engaging conversations that help them deliver transformative experiences and actionable insights. Their business strategies help influence business growth. Its customers enjoy Cognizant thought leaders, innovative solutions, and stimulating workshops based on proven methodologies and opportunity discovery.
Capgemini
It develops business catalysts with clients to allow experimentation and transformation at scale. Its goals and aspirations focus upon using best practices in 5 core areas:
Corporate Social Responsibility
Trust-Driven Business Relations
Safety and Inclusiveness
A culture of Speaking out and Listening
Security and Integrity
Benefits of Services Provided by Cognizant and Capgemini
Cognizant upholds the highest standards of conduct in managing business and serving clients worldwide. Some of the benefits enjoyed by their customers include:
Collaborative Tools: Your business collaborates with senior executives and subject-matter experts to help you customize the right solution to address your business needs.
Innovative Opportunities: They provide businesses with world-class innovative technology to uncover growth and influence digital transformation.
Tailored Business Solutions: They offer customized experiences, providing live demos and service offerings tailored to your business objectives.
Targeted Growth: They help businesses build a clear path to growth and expansion enabled by digital technology.
Information Security: Cognizant recognizes the importance of maintaining high confidentiality regarding client information and sensitive intellectual property.
Compliance: Cognizant customizes solutions that remain compliant with the different rules governing various businesses.
The most significant benefit of Capgemini is its Data and Analytics Services tools. Accurate results and in-depth data analysis are key strengths. Other benefits include:
Industrialized GlobalShore: Capgemini assists customers by combining its global delivery teams to become a part of clients' Engineering and R&D Ecosystems.
Time-To-Market: Capgemini's global team and proven expertise in technology and implementation deliver a high-performing cross-functional service.
Reduced Client Risk: Capgemini engineering reduces client risk by accurately outlining service level catalogs regarding specific skills and services.
Applied AI: They leverage data science and machine learning to solve scale industry-specific problems, using services simulations and industrial automation.
Capgemini vs Cognizant – Disadvantages
Disadvantages of Capgemini
Not suitable for complex projects. Although it has a sizable resource pool, it lacks the skills required for certain advanced technologies. It hinders timely delivery and may affect your budget.
Disadvantages of Cognizant
Their primary focus is on building and delivery. It lacks deeper elements of driving Innovation. Besides, the work outcomes are comparatively expensive
Final Thought
Based on verified reviews by Gartner, Capgemini has a rating of 4.1 stars with 16 reviews. Cognizant rates at 4.4 stars with 16 reviews. So, how can we put the conflicts on Capgemini vs cognizant to an end?
According to real-world application users, Capgemini is a business partner who understands clients' business dynamics and pushes towards best practices. It has the practical technical expertise, which delivers efficiently using global talent. On the other hand, Cognizant remains recognized for its exceptional ability to deliver big projects cost-effectively and on time.
EES has a large talent pool, from beginners to managerial, helping direct placement. With our IT staffing services, feel free to scale up or down the demands of the resources and fill critical skills gaps.