There is nothing more frustrating than finding yourself & your team behind on a project when the deadline is approaching. To avoid those scenarios project managers often look for project management software. Especially if you have remote team members.
If you are searching for a remote project management tool, you should always look for features such as timesheets, calendar view, assignment comments, analytics, and invoicing when selecting project management software.
Why Do you Need Remote Project Management Software?
When managing a major project, each team member is allocated a specific task. A project management system facilitates team cooperation by ensuring that everyone is on the same page. When a member has questions or concerns, he or she may obtain an instant answer by connecting with the respective team and the relevant individuals in the right project—rather than seeking elsewhere.
This saves time spent looking for solutions. It also optimizes the exchange of papers, timetables, and updates to keep everyone informed of crucial information, as well as how much work has been completed and how much remains to be completed. Typically project management software has a notification feature that keeps you up to date on production changes and updates.
Not only does the administrator receive changes, but the whole project team receives an automated notice. So, Needless to say, Remote project management software is a must for ensuring a solid backbone for your projects.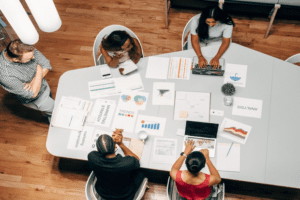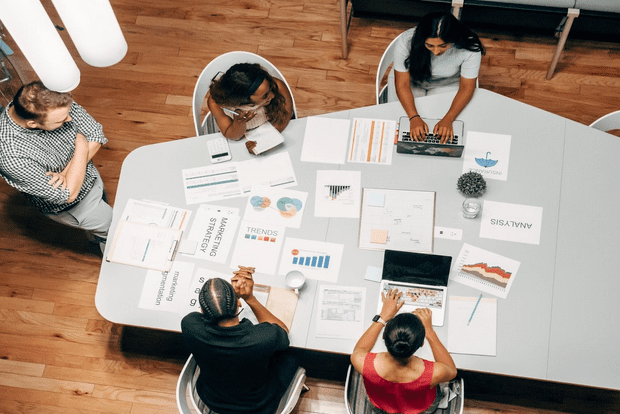 Best Software for Remote Project Management
Here are some of the best project management software for businesses with remote teams:
Microsoft Teams has been killing it for a long time now. Ever since the pandemic began, Microsoft has stepped up with Teams and it runs smoother than ever. The thing that we love so much about it is that it's functional even when there are many things going on.
You can have multiple chats running with individuals as well as a group chat and it works like a smooth, easy dream. This is an app that pretty much any workplace should download immediately. Easy to use and always reliable, it is far better than the competition.
Slack is great because it's so simple. This is made just for chat with a familiar design which makes it very easy to onboard new team members without much training.
Slack feels like any other messaging app that people might use in their personal lives and has easy-to-follow features for chats. The only thing they could do better is to improve the chat organization.
Monday.com, formerly known as "Da Pulse" falls somewhere between hybrid and comprehensive remote project management. Due to its many capabilities and interactions with third-party apps, this application is ideal for "out of office" teams.
The user interface for Monday is simply incredible. Popups and tooltips on the side screen provide a rapid overview of the application in a visually appealing form. Additionally, to make your daily dose of communication enjoyable, this project management software for remote teams supports connectivity with Slack, Microsoft, and other platforms.
Key Features:
Stylish user interface with a straightforward design.
The ability to share files easily using drag and drop.
The establishment of numerous projects for multiple teams and assignees.
A variety of tools for data visualization.
A timeline overview for tracking the progress of the team.
Strong customer service.
Special fields.
Exporting files in a variety of formats.
Along with the services already mentioned, Monday.com also offers a brief 30-day trial period. If you want to test out the program without paying anything upfront, this remote project management solution is worth a chance.
However, others might find Monday to be insufficient if they have more diversified duties, some of which call for teamwork. They might use some improvement in the reporting area, which isn't a significant concern for us but could be for those with more stringent tracking methods. I would also like to see some reductions in subscription fees.
Notion is a great option for remote teams looking for a program that will keep project updates and communication flowing. When you are not sharing space with your team, it is of the utmost importance that you create a way to keep track of ongoing projects.
Notion is easily navigable and can organize all of your projects, creating spaces for team members to update each other and log their work. It is beginner-friendly, so it's a great option for smaller teams that aren't yet used to this type of program. It's suitable for both remote and hybrid-functioning teams!
Asana is accessible via your web browser because it is web-based. The company also offers a mobile app so that you may remain up to date with the newest information at any time and from any location. To access project information, project team members share a single workspace. Tasks represent several work phases and display as digital cards in Asana, outlining tasks, approvals, milestones, or other project information.
All project data is kept in the cloud, so no matter what device you use or who edits a section of the project, you'll always see the most up-to-date version, making it an excellent project tracker. According to Grant Lukin, GM & Marketing Head of Nimble Australia, They found that most project management tools on the market were either too expensive or too complicated for our needs. They eventually settled on Asana and have been using it for over two years.
Timely is mostly a time tracking tool for remote projects. It also helps with predicting budgetary spending on any particular project, and it can also help with identifying areas where you're wasting time, believe it or not.
It has an easy-to-use and intuitive interface so any new team members can jump in and start tracking their projects from day one. You are able to manage your team with the free tier of Trello, and that really helps when trying to keep costs down with all the software needed to run a business efficiently.
The favorite thing about Trello is the templated to-do lists you can create. You can use them for getting a new post ready to be published. To better improve Trello, they could have better regression testing on their mobile apps. Their web app never seems to have bugs, but we have come across show-stopping bugs on both the iOS and Android apps.
Nifty streamlines and modernizes your project management by creating a clear plan of action for your projects and automating your progress tracking.  With this tool, you can set a visual timeline for your big-picture goals and build team alignment by automating task progress.
You can flexibly organize and manage daily work with a high level of detail using Kanban, List, and Swimlane views. This tool makes it easy to establish a knowledge hub where members can share ideas and gather immediate feedback through online chats and one-click zoom meetings.
Plus, the team leader can create beautiful docs and notes for the projects and share them instantly. According to Megan, CTO of ICRFQ, "Nifty is the bridge each business requires to manage their remote team projects as it's available on the web, iOS, and Android apps."
It has a lot of features and customization options that allow users to tailor it to their specific needs. Additionally, the support team is always quick to respond to any questions or issues one might have.
That being said, the pricing could be more affordable and the user interface could be more modern and user-friendly. Other than that, Jira is suitable for almost everyone who is looking for remote project management software.
Daylite is a Mac CRM and productivity app for small businesses developed by Marketcircle Inc. Perfect for remote teams, used today by thousands of small businesses in over 80 countries. The main value of Daylite is that it helps businesses to manage more customers, sales, projects, and close more deals.
Daylite helps teams share communications, next steps, and details to keep everyone in the loop. This allows teams to collaborate more and push deals, projects, or next steps with clients forward without wasted time or interruptions.
Conclusion
Managers in any industry use project management software to manage their projects. Every business, from creative to marketing to IT, needs to use this software for better production and overall connectivity. These tools will certainly make your life as a manager or team leader more manageable.